Despite "differences of style and temperament," he argues, there is an "interior continuity between the two pontificates."
On March 12, 2018, Pope Emeritus Benedict XVI sent a message on the occasion of the presentation of a collection entitled "The Theology of Pope Francis," informed the Secretariat for Communication the same day. The former pope said the volumes "help to see the inner continuity between the two pontificates."
In his letter, the German pope welcomes this initiative, which "contradicts the foolish prejudice of those who see Pope Francis as someone who lacks a particular theological and philosophical formation."
This is the same line of thought that characterizes Benedict as a "theoretician of theology with little understanding of the concrete life of a Christian today," he continued.
The 11 volumes of the collection, Benedict XVI said, show on the contrary that his successor has "profound formation." Despite "differences of style and temperament," he argues, there is an "interior continuity between the two pontificates."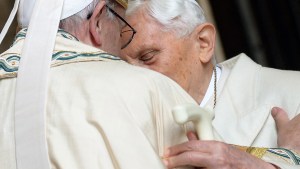 Read more:
Benedict XVI to Pope Francis: "I promise you my total obedience and my prayers"
Published in Italian by Libreria Editrice Vaticana (the Vatican publishing house), this collection will soon be published in French, English, Spanish, Polish, Portuguese and Romanian.
Each of the eleven books has been written by a different theologian, under the direction of Father Roberto Repole, president of the Italian theological association.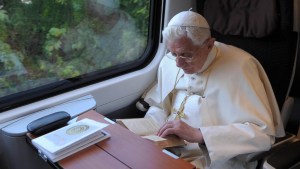 Read more:
We might still have surprises from Benedict XVI, says Cardinal Ouellet