Says she thanks God for Francis' presence in the world today.
Pope Francis received in audience this morning the daughter of Martin Luther King, Jr, Bernice Albertine King, who presented the Holy Father with the sixth volume of the series entitled "The Papers of Martin Luther King, Jr: Advocate of the Social Gospel, September 1948-1963."
Bernice King was awarded an International Prize recognizing women involved in non-violence and peace initiatives.
In an interview with TV2000 after the meeting, King said that in a world of too many divisive conflicts, "we need moral authority, like Pope Francis."
She spoke of her admiration for his leadership and his "moral voice for the whole world."
"I thank God for having given this to us right now," she said.
King remarked about her father's words that Pope Francis recalled — those that resound in his heart of peace, non-violence, respect for dignity for every human being.
"The centrality of what is human is really crucial today," she said.
Read more:
Have we been focused on the wrong Rev. Martin Luther King quote all this time?
Regarding the award given to King, Gabriela Lio, a Baptist pastor, says that "In the present racist and xenophobic climate, awarding Bernice King puts the spotlight on the legacy of ML King of non-violence, by recovering the courage of a faith that welcomes, encounters, and dialogues, which in this moment cannot but be interreligious."
The award ceremony took place March 10 in Monteleone di Puglia in the Province of Foggia and was organized by the Gandhi Centre located in Pisa, and Rocco Altieri, a pacifist and an authority on the issue of non-violence.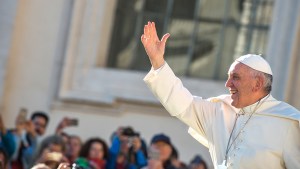 Read more:
Pope backs Chicago's 'Good Friday Walk for Peace' inspired by Martin Luther King