A recent study found the magic number for life satisfaction.
What if I told you that all you need to do is make $95,000 a year and you'd be happy? You would probably react in one of three ways: 1) Wow, that's a lot of money, I'll never make a salary like that. I guess I'll never be happy, or 2) Yeah, that's attainable. I'm going to dedicate the next five to 10 years of my life to attaining that salary so I can be happy, or 3) What? No way. I make that now and I'm clearly not happy.
Actually — there is a fourth. 4) I make that now and I AM happy.
That was the answer that fueled recent study of 1.7 million people around the world that sought to answer an age-old question about wealth and contentment: Exactly how much money does it take to be happy? The exactly is important here, because up until now, previous studies haven't been able to nail the figure it down. Statistical research has upheld for some time that money does lead to a happiness (a perceived one, anyway), but only when you reach a certain income level. After that, your happiness quotient actually starts to decrease.
What was not known is what exactly that saturation level was. A salary of $500,000? Over a million?
Read more:
Why you should make a financial to-do list for 2018 … and what should be on it
The study, done by researchers at the University of Virginia and Purdue, used the premise that "money influences happiness through the fulfillment of both needs and increasing material desires" (the last part being unfortunately, but probably, true for most people. Obviously priests, nuns, missionaries and others whose happiness is derived not from money but by serving others were not involved in this study!). The study did, however, look at the effects on gender, education, and religion. People who lived in wealthier areas of the world required a higher saturation point than others.
A household income of $95,000 was the global average for attaining total life happiness, but here's what it specifically takes to be happy in your part of the world, from highest salary to lowest:
Australia and New Zealand — $125k
Middle East and North Africa — $110k
East Asia — $110k
North America — $105k
Western Europe and Scandinavia — $100k
Southeast Asia — $70k
Eastern Europe and the Balkans — $45k
Subsaharan Africa — $40k
Latin America and the Caribbean — $35k
Perhaps the most powerful takeaway of this immense study comes not from the figures, but in the authors' conclusion: Life satisfaction ("happiness") goes down after a certain level because "high incomes are associated with costs of that life" — in other words, its not about the money itself but the high demands on your time, workload, and responsibility. Maintaining a big income takes even more valuable time away from our families, our children, and adds stress when we should be enjoying the journey and looking for the joy in the places it can always be found regardless of a figure on a paycheck — in the simple moments of life.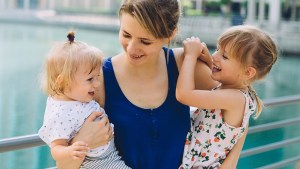 Read more:
Why being financially "successful" is more attainable than you think