Self-confidence enables us to be honest and authentic, and for that reason it's the bedrock of our relationships.
Years ago I was in a relationship with a fairly possessive guy. At first I had no problem with the jealousy. It made me feel special, valued. But as he began to isolate me from my friends and family, I started getting worried. I didn't say anything, though. I didn't want to risk it. What if I protested, I remember thinking, and he got angry?
These days, I'd know enough to say "If he gets angry, that's his problem, not mine." But back then, I didn't have enough self-confidence to fill a teacup. I didn't know that, as Brene Brown puts it, I am "worthy of love and belonging," whether or not people acknowledge it. I was stuck getting my sense of self-worth from external things, like my waistline, grades, and boyfriend. So there was no way I was going to be able to muster up the gumption to say, "Hey, you don't have the right to monopolize my time." I'd be risking my most valuable, most fragile, possession — my self-worth. That's what I'd stand to lose if he rejected me.
So what do you do when you can't risk saying what you mean, or even asking for your basic rights? You hint. You use guilt-trips. You get passive-agressive, you make jokes that aren't really jokes, and you get manipulative, hoping that the person will wise up and give you what you need, all without you having to put your already tenuous self-worth on the line. Very few people take pride in being manipulative. Often, they're just afraid, and trying to protect themselves.
Well, I grew up a little, broke up with the guy, and got a little braver, and was surprised to find that as my self-confidence grew, my relationships started getting happier and healthier across the board. Confidence, although it isn't in itself a virtue, is a type of courage. It means not being afraid of how other people react to you.
Read more:
4 Steps to overcoming insecurity
It's actually helped me a lot, to understand the link between insecurity and manipulative behavior. It's helping me be more patient and understanding with the people in my life who do tend to be manipulative (although it doesn't excuse the behavior). And more than that, it's helping me flag my own manipulative tendencies, and ask myself whether the fear behind them is actually legitimate.
How do you grow out of insecurity and become more confident? It's the work of a lifetime, for sure, but looking back at that time of my life, I can identify a few key changes that made a big difference for me.
Surround yourself with people who are easy to be real with. There was a reason I was reluctant to air my grievances with that first boyfriend. I knew it was likely my needs would be met with anger. It sure didn't make it easy to be straightforward. I learned how to be direct when I started dating my now-husband, because he never lashed out at me. I got lots of practice disagreeing with people who were safe to disagree with, and slowly but surely got more confident expressing myself even when the other person didn't want to hear it. Baby steps.
On that note, practice makes perfect. I found that even when it was hard, the more I decided to skip the hints and be direct, the easier it got. Later, I learned that I was essentially doing what's called exposure therapy on myself. The more you expose yourself to your fear, the more you're forced to remember that it won't actually kill you, whether it's spiders you're afraid of, or confrontation.
Finally, it helps to try to see yourself through God's eyes. He's the source of all true self-confidence, since he's the one who tells us that no matter what we do, we're valuable. Even when I'm frustrated with myself, I still can't deny that he loves me. So when I need to speak up, to tell somebody "You can't treat me disrespectfully," or "I've made my decision and it's not going to change," or whatever it is, it helps to remember that there's no need to get passive-aggressive if I remember that what I'm asking for is good, and because of that, God is on my side.
Self-confidence isn't just a good feeling. It's what enables us to be honest and authentic, and for that reason, it's the bedrock of our relationships. It lets us show each other our true selves, our needs, desires, and vulnerabilities, without fear. It's worth working on, even if the work is never really finished.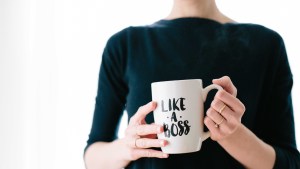 Read more:
Confidence is a skill — here's how to build it