Since I do deserve it, I am glad to go there to satisfy his justice ...
What is one of the most famous exchanges in Hollywood history?
"You want answers?"
"I want the truth!"
"YOU CAN'T HANDLE THE TRUTH!"
This exchange in the movie 

A Few Good Men

 can prompt a reflection on the often-neglected doctrine of Purgatory. At our particular judgment, whether we want it or not, we will receive the truth—and, unless we die as saints ready for Heaven, we can't handle the truth.
If we die in a state of unrepented mortal sin, that is, if we die while at enmity with God, then at our particular judgment, God will acknowledge our choice against him, and the choice we made for eternal separation from God will begin. The infinitely holy God is just, and cannot dishonor himself or our freedom by tolerating the presence of sin before him. The only way to "see the face of God and live" is to have died in a state of grace, purified by the saving work of Christ. The infinitely holy God is also merciful, and knows well our weaknesses. Those who die not at enmity with God may still be attached to what is unworthy of us and him, and may have died with venial sins for which we had neither regret nor repentance. We're not ready to see God face to face; we "can't handle the truth" (yet) of who God is and who we are before God. So, the merciful God offers us an opportunity for purification (Purgatory) so that we may finally enter Heaven.
We can find a formal account of Purgatory HERE. Put more simply: Purgatory is our chance to see with perfect clarity our choices against God, our disordered affections and attachments to what is unworthy of us, and to see clearly that love and glory which God has always offered us. Seeing what poor stewards we've been of our graces, seeing with perfect clarity the horrible effects of our sins—even venial sins—leads to an anguish of regret and scouring contrition that both scholars and mystics alike have described as a purifying fire. With the perfect clarity of Purgatory, we'll see what we could have become with God's grace, and what we actually did with our lives.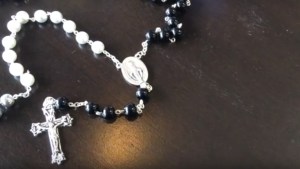 Read more:
Pray for the Holy Souls in purgatory using this fascinating rosary
Who could endure that such clarity? That's why we refer to souls in Purgatory as "the Church Suffering." It must be a matchless anguish to see Heaven delayed (but not denied!) because of venial sins. I myself shudder at the thought. Yet I'm consoled by the great Jesuit saint, Claude de la Colombiere:
"As for Purgatory, I do not fear it. I am sorry to have deserved it because it has only been by offending God; but since I do deserve it, I am glad to go there to satisfy his justice as rigorously as possible even to the day of judgment. I know the torments are great, but know that they honor God and that in Purgatory I shall be sure of never opposing God's will and of never complaining of his justice but of loving it and waiting patiently until it is entirely satisfied. God sought me out when I fled from him; he will not abandon me now that I seek him, or at least do not flee from him anymore."
Such are the words of a man knowing himself to be a loved sinner!
Read more:
Benedict XVI's teaching on purgatory
In my last column, I described meditation on Hell as an essential Lenten practice. Likewise, a meditation on the truly terrible mercy of Purgatory is essential. Such a meditation can free us from the illusion that we can safely play with sin, or prudently delay confession, conversion and penance. J.R.R. Tolkien wrote a charming yet sobering short story on Purgatory called "Leaf by Niggle," which begins:
"There was once a little man called Niggle, who had a long journey to make. He did not want to go, indeed the whole idea was distasteful to him; but he could not get out of it. He knew he would have to start some time, but he did not hurry with his preparations."
We too have a journey to make, from life to death, from time to eternity. Lent is a way to prepare for that journey. For the journey to end well, we must live well here and now. And we must be unencumbered of whatever holds us back, slows us down, or lures us off the path.
We are approaching Holy Week. As time passes we move closer to Easter, closer to death, closer to our own particular judgment. Let's resolve to take time to examine our lives in light of these facts. And let's resolve to pray for the consolation of the Holy Souls undergoing their purification in Purgatory.
When I write next, I'll discuss preparations for Holy Week. Until then, let's keep each other in prayer.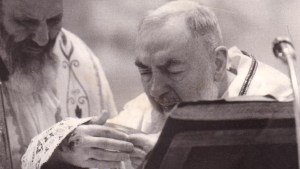 Read more:
When Padre Pio was visited by a soul from purgatory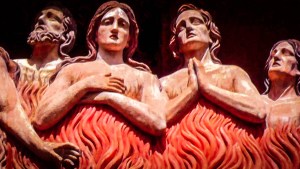 Read more:
Why John Paul and Benedict say "Start your purgatory today"
~
Listen to a radio interview with Fr. McTeigue about this theme here.