A: What's the hardest part of learning to date for students? 
P.C.: Dating asks you to slow down to figure out how to say who you are and to risk rejection, vulnerability, and awkwardness. Dating asks social courage of you – something that needs to be built over time and it also asks you how to figure out how to break up with someone in a kind way if you are not really interested. Most important perhaps, dating asks if you really mean those things you say and do — do you really mean the words you are saying to me and the things you are doing with your body and the affection you are showing? Those are things we need to learn, but when we put them in dark private spheres, we get into tough situations in which we don't know what we mean or what we want and don't want. Or worse. We often end up in very sad or scary or lonely places and I think it's why it's so hard for young people to risk being vulnerable. All human relationships require this kind of courage.
A: Why is it so important to recover the meaning and rituals of dating? 
P.C.: There is an assumption that you should only be dating if you are ready to get married and you shouldn't date unless you are dating someone you want to marry. That flies in the face of hormones and how we learn about relationships in general. Throughout our lives, we get into friendships and then later realize this person isn't someone we want to spend time with and we figure out how to move on or change, and we figure out how to cultivate friendships and how to become a better friend. Lots of this kind of work makes sense in romantic relationships as well. But many young adults are scared off by the drama. I often tell my students, "If you knew how to break up better, you would be willing to date more" — these cataclysmic breakups are what scare people off from what I would consider casual, healthy dating.
Part of the trauma of these breakups is because we bring physical intimacy in way too early and we become intimate with people before we really want or have established closeness with them, and the end of a relationship can then be very devastating because we are taking back all sorts of things we "said" with our bodies. The reality is that we are all called to relationship and dating is the way to begin healthy relationships.
A: How can a parent or a teacher implement what you're doing? 
P.C.: First, go see The Dating Project documentary on April 17! I couldn't be happier with the way the filmmakers ended up framing this movie. They let the stories of these wonderful people tell the story of us all. Themovie is for high schoolers through nursing home residents! Remember that over 50 percent of American adults are living alone, so we might assume that a number of them would like to date. And it is not only for single people, but families, parents, grandparents and friends who want to help support single family members and friends.
Look, we don't have arranged marriages in this culture, but we still need help from family and friends to keep moving forward and to feel good about it and to have a lightness about it. We can help each other on this.
The dating assignment I give is not about primarily about romance, it's about courage. Dating takes social courage and we need to teach our young people the virtue of social courage. This documentary opens a conversation that a lot of single people are wanting to be part of. I've been having a wonderful conversation about it for years with students at Boston College, but the movie also does a beautiful job of showing the great human struggle that single people face day to day. I think we need to work together to support them in proving that there are ways to date differently.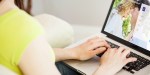 Read more:
4 Online dating tips if you're seeking a serious relationship