The #MementoMori prayers of St. Bridget are a good addition to Lent, or any time.
This Lent I have been remembering my death more often because of an addition I made to my spiritual repertoire. I decided to add the recitation of the 15 Prayers of St. Bridget, commonly found in the Pieta prayer book but also published by Tan Books.
Over the course of my life, I've prayed the Prayers every now and again but with no regularity. As I pray them during these 40 days of Lent, they've moved me in a new way, as I have been attentive to the graces I'm praying for, many of them dealing with the hour of my death.

Here are a few #mementomori snippets from the Prayers:

First Prayer: Grant me before my death true contrition, a sincere and entire confession, worthy satisfaction and the remission of all my sins.

Fifth Prayer: I beg of You, O Sweet Jesus, that at the hour of my death, You will show me mercy, too.

Sixth prayer: Assist me in all my trials, and especially at the hour of my death.

Eighth Prayer: Grant us the grace to receive worthily Your precious body and blood during our life and at the hour of our death, that they may serve as a remedy and consolation for our souls.

Ninth Prayer: I beg of You, O my Savior, not to abandon me in the terrors and pains of my death.

Thirteenth Prayer: I beg of You, Lord Jesus, to have mercy on me and at the hour of my death when my mind will be greatly troubled and my soul will be in anguish.
Read more:
Who smiles like this near the moment of death?
Fourteenth Prayer: I beg of You at the hour of my death to receive me, a pilgrim and an exile returning to You.

Fifteenth Prayer: I beg of You, O Sweet Jesus, to receive my soul when I am in my death agony.

Conclusion: May the end of my life be so praiseworthy that I may merit Heaven and there, with Your saints, praise You forever.

I have found the Prayers of St. Bridget to be quite beautiful because they help me to meditate on Christ's Passion, His wounds, and His death.
Read more:
Padre Pio, Bernard of Clairvaux and the Shoulder Wound of Christ
Some people might pray the prayers for the wrong reasons, because of the so-called promises associated with them. In 1954, the Vatican issued a statement barring the publication of the promises attached to the prayers due to questions regarding their authenticity. I'm not praying the prayers for the promises, but instead for the wonderful graces we ask God for each in each prayer. The #MementoMori graces are only a handful of the many requests we make of God through these prayers.

Are you looking for an additional Lenten meditation in the final weeks of Lent? Look no further than the Prayers of St Bridget. They will open your eyes to Christ's suffering and open your heart to the many graces God will give, especially the #MementoMori graces.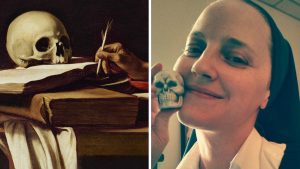 Read more:
Memento Mori: How a skull on your desk will change your life