While volunteers helped rebuild Charles Adderley's home, he taught them all a crucial life lesson.
Between work and raising a family, it's sometimes easy to forget the importance of being an active member of the community. Yet, the story of 93-year-old Charles Adderley from Miami should remind us all that our community is really an extension of our family, a group of people who can come to our aid when we least expect it.
At the tender age of 17, Adderley participated in the decisive World War II battle in Normandy on D-Day, for which he received two US commendations. Back home he embarked on a career as a postal worker while bringing up five children and being involved with his church community. Yet after years of serving others, the nonagenarian was now in need of help when his home fell into a state of disrepair. Although he'd done the best he could to look after his home of 40 years, he didn't have the means to do the necessary work.
Fortunately, Travis Renville, executive director of Rebuilding Together, and the rest of his community heard of his plight and stepped in. From neighbors to the emergency services, people volunteered their time and resources to give back to this remarkable man who stands tall and wears a smile, despite his roof falling down around him.
Interestingly the project didn't just benefit Adderley. As Renville shared in a video posted on Youtube by Mass Mutual, "we don't interact with people who are your elders … there's so much that can be learned from them," adding that the elderly provide "that glimpse into the past which is invaluable."
While garnering respect and admiration from all who meet the sprightly veteran, Daren M. Davis from the Miami fire department explained that Adderley taught people a most valuable lesson: "To be there for each other." The fire lieutenant said that Adderley's service "inspired so many people," and the reason people came to his aid is "because quite frankly we owe it."
The story of this inspirational gentleman, who is featured in the popular Mass Mutual commercial "Stand by You," warms hearts, but its message is more far reaching. As Adderley said to his many helpers: "Each and every one of you is part of me now," and that is what a community truly is.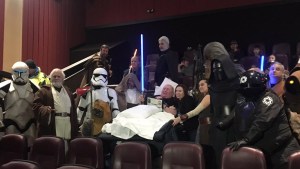 Read more:
Veteran's dying wish to see 'The Last Jedi' with his daughter seemed impossible until …