At first, the question seems like nonsense ...
"Were you there when they crucified my Lord?" I hope that you've heard the old African-American spiritual before, sung at least on Good Friday, if not throughout Lent.
It seems simple bordering on childish, with its repeated stream of questions, but don't let that fool you. The song works on us like an optical illusion–stare at it long enough, and suddenly you see it in a whole new way. Far from being childish, it actually tells us everything we need to understand to fully participate in the season of Lent.
Were you there when they crucified my Lord? Were you there when they crucified my Lord? Oh, sometimes it causes me to tremble, tremble, tremble. Were you there when they crucified my Lord?
Verses:
Were you there when they nailed him to the tree?
Were you there when they laid him in the tomb?
Were you there when God raised him from the tomb?
"Were you there when they crucified my Lord?" At first, the question seems like nonsense. You want to say, "Of course I wasn't; that was a really long time ago." But the line asks yet again, insisting that you reach into the recesses of your memory, and try that answer again. It's an urgent question, and a personal one: "Are you sure you weren't there?"
Well, you and I may not have been there, but the singer says that she was. And the terrible event happened so recently that, she insists, it still "causes me to tremble, tremble, tremble." Not only hasn't the mind forgotten, but the body still feels it. So she asks us again: "Were you there?"
The song goes on to draw our attention to the details. The crucifixion was the general event, but our focus is turned to the nails, then the tomb, and then, not to be forgotten, the empty tomb. It's almost like somebody trying to refresh your memory. It's enough to have us asking ourselves, what other ways of "being there" can there be, short of physically being present?
Part of an answer is found in the refrain: "Sometimes, it causes me to tremble." If the thought of what happened makes you tremble, that is a very real way of bringing your body to a place where, previously, only your mind has gone. And if your mind and body are both present to an event, can't you say that, yes, you are there?
But there's an even more real sense in which we can answer, "Yes, I was there." Jesus is not "the Lord," here, but "my Lord." The term is specific. Not "our Lord," but mine, personally. That's because the Crucifixion wasn't for the world as a whole, it was for each of us–personally. Whether or not I was there, thinking of Christ, still we understand that He was there, thinking of me. So yes, to Jesus, dying on the cross, I was there.
That fundamentally personal element of the Crucifixion has another side to it, though. Christ died for us in order to save us from our slavery to sin, and from the death that proceeds from those sins. On the cross, he dies in our place, taking on himself the punishment that ought to have been ours. It is through even our sins, which Jesus brought with him to the cross, that we are there on Calvary as well.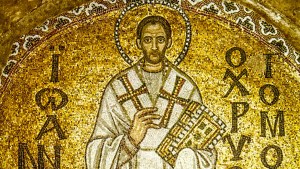 Read more:
Do you hate confessing your sins to a priest? Let this motivate you
So far, the ways that we are there with Jesus at the hour of his death have been figurative. But there is one way that we are physically, actually there with Christ–so real that we can answer, not "I was there," but "I am there."
The Church teaches that the sacrifice of the Mass is the same sacrifice of Christ, at Calvary, made present to us today, but in an unbloody manner. Jesus is not killed again and again, but his sacrifice is nevertheless, truly present in every Mass. We are there. It is not just Jesus' love that is present to us, but his physical body as well, through the Eucharist. We don't just remember how his sacrifice saved us; the Mass brings that sacrifice through to each new day.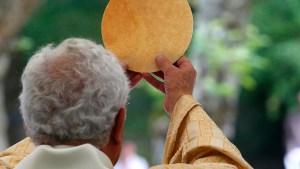 Read more:
The Eucharist IS Jesus, just have faith: Pope Francis
This simple hymn, with its persistent, unyielding questioning, forces us to reflect on what we've been taught–that Jesus' love, and Jesus' very self, is as present and personal to us today as it was to the people he walked with on Earth, 2,000 years ago. We were there back then, when he was crucified, and we can be there with him still.