"I'm trying my damndest not to let all of this get in the way of my living."
A young woman at church about my age passed away recently.I had every intention of singing at her funeral, but I didn't. The main reason was because I had a nasty sinus infection. But if I'm being honest, I was a little relieved. The young woman was incredibly sick for a long time and I'm thankful she is out of pain and at peace. I'd always felt a bond with her, even though I never really knew her, because while her illnesses were far more severe than my own (she'd been terminal for many years), there are some similarities between us.
I'm at war with my body also. Not at all to the same degree, but I fight every day. And, while I know it's not equivalent, I long felt a connection. We both fought — and in my case am still fighting — for a diagnosis. There's constant pain all over and things aren't working as they should.
When I first heard of this woman's story years ago, I had the overwhelming urge to reach out and touch her, to hold her hand, to lift some of her burden onto myself. But I never did. I feel guilty that I take solace in the fact that I'm not that sick, and I'm afraid because someday I could be that sick. So how could I ever trespass on her life, on her family's grief, feeling as I do?
The battle begins
The battle with my body started in 2008 with all-over body aches and pains, red rashes and hives from the sun, insomnia, exhaustion, among other things. Doctors ran every test they could think of, looking for signs of inflammation in my body, inflammation I could feel was there, but the blood work always came up negative. No Lupus. No Rheumatoid Arthritis. No long list of any other possibilities. He was stumped and I was defeated.
He took my hands in his, ran his fingers along the tops of mine, and said, "I have been doing this for a lot of years and you have the hands of someone who should be seeing a rheumatologist." This felt cryptic and obtuse. I wanted to say, "Help me then," but I didn't.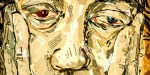 Read more:
Is it possible that you're refusing the joy God is offering you?


He added "possible fibromyalgia" to my chart and sent a report to my primary care physician. I cried all the way home. I decided this was just going to be it for me. I started skipping morning classes because I couldn't get out of bed and I received my first ever "B" in a class related to my field of study. I thought about talking to the disabilities office, but I didn't know what to say. I didn't know what was wrong with me. And perhaps a part of me thought I deserved it. After all, why couldn't I just suck it up?
I suffered four stress fractures in my foot over the course of two years and a walking boot became an almost permanent fixture as I hobbled around our large campus.
My constant companion
Things did get a little better. I graduated in 2009 with a high GPA after three years at the university, despite my lapse in health and focus. Coming home, away from the campus environment, seemed to have a healing effect and I begin to feel, if not completely better, at least as though my continuous malaise had been reduced to something manageable. I went to graduate school and received my MFA in Creative Writing. I had a few jobs doing administrative work and was trying to figure out my life, get through the uncertainty of my mid-20s, when it happened.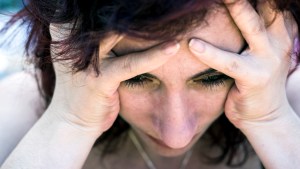 Read more:
Suffer from headaches? Here's a patron saint for you
October 28, 2013. It was an average weekday morning, save for the fact that I woke up with a headache behind my right eye. I took some Aleve and went to work but it didn't help. I came home and went to bed early. Still a headache the next morning. Before a week had passed, I'd had my first of many visits to the ER after a pain spike caused my primary care physician to worry I was having a stroke or an aneurysm. They did a CAT scan, asked about my history of migraines (I had none), and put me on oxygen and a heavy dose of Dilauded. As I lay in the hospital bed, moving in and out of a faraway state of narcotic-induced haze, I could still feel the nagging sensation of pain behind my eye, reduced back down to what would become my constant companion, my baseline, a 5/10 on the pain scale.
It's been over four years now and my headache has remained wholly untouched. I've had MRIs, lumbar punctures, EEGs and every other test you can imagine. I've tried over 30 different treatments, from preventative medication, to migraine abortives, to botox, a ketamine-infused hospital stay, and nerve blocks in my face and neck. Four neurologists, all good doctors and nice men, have tried to help me, gotten frustrated and have sent me elsewhere for answers. I've turned to alternative methods: acupuncture, biofeedback, vitamins and herbs. Still, my headache remains. After cycling through several diagnoses, we have settled on New Daily Persistent Headache (NDPH).
Thriving at life
I always thought I'd feel better with a proper diagnosis, like if I could name my pain, it would somehow lose its power. But NDPH is a diagnosis without a known cause or successful treatment plan. But I've found a comfortable state of tempered hope and acceptance over the last several years.
It's been a long journey, and there are certainly days where I still find myself unable to stop crying, grieving the life I thought I would have, where I thought I would be personally and professionally by now. The pain, which spikes with any kind of physical exertion or stress, is triggered by sunlight, smells, the weather, and so many other things, that keep me unable to work a traditional full-time job or find a real sense of financial stability. I can't take anything for the pain, nothing cuts through. I take a lot of naps because it helps me get back to my baseline level and because I'm exhausted.
In spite of all this, I seek joy and I fight to live a life that feels less like surviving and more like thriving. I stay open to new specialists or treatments on the horizon, knowing the medical field is in a constant state of evolution and that the answers are out there, perhaps yet unrealized.
But pain is also lonely. Sometimes I feel like my bed and the chaise lounge on our couch are the two most intimate relationships I have. I tried dating, briefly, but I think I was too much for him, and now I'm afraid that I'm too much for anybody. How could I ever ask someone to take all of this on?
Other things have begun to happen too. My all-over pain has returned, in my muscles and my joints. I constantly feel like my body is fighting my every movement. I don't know if it's fighting me or some darkness hiding inside of me, but the battle is grueling. I'm unable to sleep for more than two hours at a time, because my headache is more active at night or I don't know why. I nap almost daily. I have stiffness and swelling in my hands and feet. Numbness and tingling. Hot and cold intolerance. My heart beats fastest when I'm lying down and my blood pressure plummets when I stand too long, as though my body is confused about what it's supposed to be doing. It seems like there's something new almost every. My primary care physician, who's been steadfast in his support of me from the beginning, likes to joke that I'm his "challenge." All of this comes without a diagnosis, without an explanation of any kind.
I feel like I have made this sound so much worse than it is. Because I am functioning and so many others with similar symptoms are bed-ridden, disabled, are hurting so much. We all know suffering, every one of us. And, I hope we all know joy. Because I do believe in mercy and in grace. And, I'm trying my damndest not to let all of this get in the way of my living. So, maybe it's a miscategorization to say that my body is at war with me. These days, I've taken the fight to my body and I will not stop, I will not let my body win.
I'm brought back to the young woman's funeral, the one I couldn't attend. The one I felt like I shouldn't.I've been told they played "Just Breathe" by Pearl Jam. It's a lovely song. I can't think of a better song for her, for me, for all of us in pain. Right now, I'm humming to myself:
I don't want to hurt
There's so much in this world
To make me believe
And, I do believe. I believe that while this is not the life I wanted, it's the one I have, and I am going to live it, full and rich, with love always on my lips. I am going to just breathe.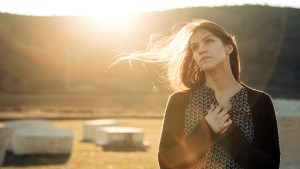 Read more:
What science is revealing about the physical effects of hope