Yelling makes kids shut down their emotions instead of working through them.
When my fourth child was entering the terrible twos, I decided to completely change the way I parented.
I was partially inspired by my own recent bout with postpartum depression, which had left me with very little ability to regulate my emotions, and partially inspired by my friend who was teaching her (also 2-year-old) daughter to deal with frustration by stamping her foot on the ground. Watching my friend actively teach her toddler how to manage and regulate a difficult emotion made me realize that I had never learned to do that myself, and certainly hadn't taught my children how to do it. So I decided to try.
Lincoln, my 2-year-old, didn't struggle as much with frustration as he did with disappointment. Having to share a toy or leave the playground invariably ended in hysterical wailing, and up to that point my default reaction had been to threaten, punish, or ignore. So I decided to do the opposite.
The next time he began his lamentation, I kneeled down and looked him straight in the eye. "Lincoln, I know how disappointing it is to leave a place when you're having fun. I know it can be hard not to cry, so I'm going to help you calm down. Let's take a deep breath in together, and then blow it out as hard as we can."
The novelty caught him off guard, and he stopped wailing. Then he started breathing in with me and blowing air out. He was so occupied by our newfound activity that we left the playground and made it all the way home without the usual sobbing.
The success of my experiment led to a significant shift in my overall approach to my kids. I began to move away from yelling and "disciplining" and toward teaching and forming. While I didn't know it at the time, my habit of yelling wasn't only failing to solve discipline problems — it was reinforcing (and maybe even creating) them. According to an article at Simplemost, yelling at kids literally changes their brains … and not in a good way:
Megan Leahy, a mother of three and parenting coach, explained to the Washington Post in an article about the effects of yelling that when a parent is shouting, "You are either growing aggression or growing shame. Those are not characteristics any parent wants in their kids." In a 2013, a University of Pittsburgh study suggested that "harsh verbal discipline" for adolescents doesn't help and actually has similar damaging effects to physical discipline. Their conclusions? Yelling just reinforced bad behavior and increased depression. Even homes that were otherwise loving did not avoid the damaging effects of even-occasional raised voices.
I won't pretend that I'm perfect now and never yell at my kids, because that's a lie. I still yell, but not nearly as much — and not as a first response. I spend a lot more time talking about emotions with my kids, affirming that they are real and powerful, and helping them come up with strategies to handle their emotions. Some strategies work better than others (lemme tell you how well "drawing a picture of your anger instead of hitting someone" worked), but everything we come up with is a place to start. It gives my kids (and me!) a concrete strategy that we can build on.
In many ways, it's changed the landscape of our family already in three short years. Lincoln only rarely pitched fits of wailing after that first intervention, and calming down together is something we still do. Sometimes it's my idea, when he's upset. But sometimes it's his idea, when I start getting short-tempered and snappish. He'll put his little hands on my cheeks and say, "Mama, take a deep breath with me and then blow it out as hard as you can, okay?"
And every time, no matter how irritated I am the moment before, all that frustration melts away with that breath. Sometimes it's harder than yelling, but it's always a better choice.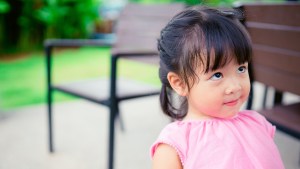 Read more:
How to discipline proactively, not reactively