His YouTube channel is dedicated to helping other dads spend more time with their daughters.
Most of the time, Greg Wickherst is a college admissions representative, but at home he's also hair stylist extraordinaire and on YouTube as The Hair Dad.
As a single dad, Greg sometimes had a difficult time bonding with his young daughter until a cosmetology student taught him the basics for doing hair. Now, not only does he bond with his daughter by doing her hair every day, but the daughter-daddy duo have a YouTube channel to teach other single dads how to bond with their own daughters.
At the beginning, he could barely manage a simple ponytail, but her delight at his efforts made it all worth it in the end. "After the first time I did a French braid on her, she looked in the mirror and then looked up at me and said, 'You did a good job, Daddy,' and that was the first time I really made my daughter feel proud," Wickherst said.
Above all, Greg wants other dads to know this: "It's not about being perfect. It's about being present. […] It's really just to make her feel confident, to make her feel proud, and really a way to help bond with your kids."
After one French braid, this dad and daughter were hooked 💁‍♀️ pic.twitter.com/ZHyMPo3yU0

— Insider (@thisisinsider) February 13, 2018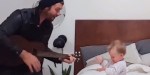 Read more:
Father serenades baby daughter and gets the most adorable reaction (VIDEO)