Sara Ahlin Doljak has multiple sclerosis and can't walk or talk, but she never lost her clients or their trust.
Sara Ahlin Doljak is a Slovenian lawyer and a lecturer at several colleges, even though she can neither walk nor talk because of multiple sclerosis. "My resentment against the illness and pain has gone. After years and years of searching I have finally found myself," Sara says. (She communicates using a writing board and uses an electronic voice simulator to lecture.) She remembers her days at the hospital, where she spent almost three months last year. Once an avid sportswoman who ran married couples meet-up groups with her husband, she is now confronting the cross of illness, and shares her story with Aleteia in an exclusive interview:
Aleteia: What is an average day like?
S.D: I still go to work but I work from home, and I still lecture at the university. Mornings are the hardest, as I am a restless sleeper because of my cramps. I need the help of my husband and my parents for the morning routine, for getting dressed and things like that.
I still go to work because I enjoy the company of other people, and when I work I forget that I am in pain, that I am ill. Since diagnosis I have been living with the awareness that my work helps other people and, indirectly, it helps me as well. I do not see myself as a hero, but it is true that very often it is incredibly difficult to hide tiredness and pain.
Sara's words on the write-and-wipe board:
The diagnosis of multiple sclerosis is not the end,
for me it was a warning
to stop striving for the material side of the legal profession.
———————————
A: What does law mean to you in this position?
S.D.: Law expands the dimensions of my being a lawyer, mediator, lecturer, wife, mother, daughter and friend. I see stories in people, not the fee, and I try very hard to make them see no point in litigating. The changing of the world began with me, though.
At the beginning of my studies I was not at all attracted to being a lawyer. I thought that being a lawyer is a good way to make money. But in order to resolve a legal dispute successfully, we need the truth. The argument of power is insufficient, as in the long term, if we are honest to ourselves, it robs us of joy and happiness because it leaves us restless.
A: How did you start accepting your illness?
S.D.: When I was lying in hospital in April 2012, at the neurological clinic, I was still in denial about my illness. I was daydreaming about how I would be able to do everything as before. To be a good wife, a great mother, have my own law firm, lecture at the university, drive a car, ski, play volleyball. I could not let go of anything. And I could not pray, I was too busy pondering my earthly existence.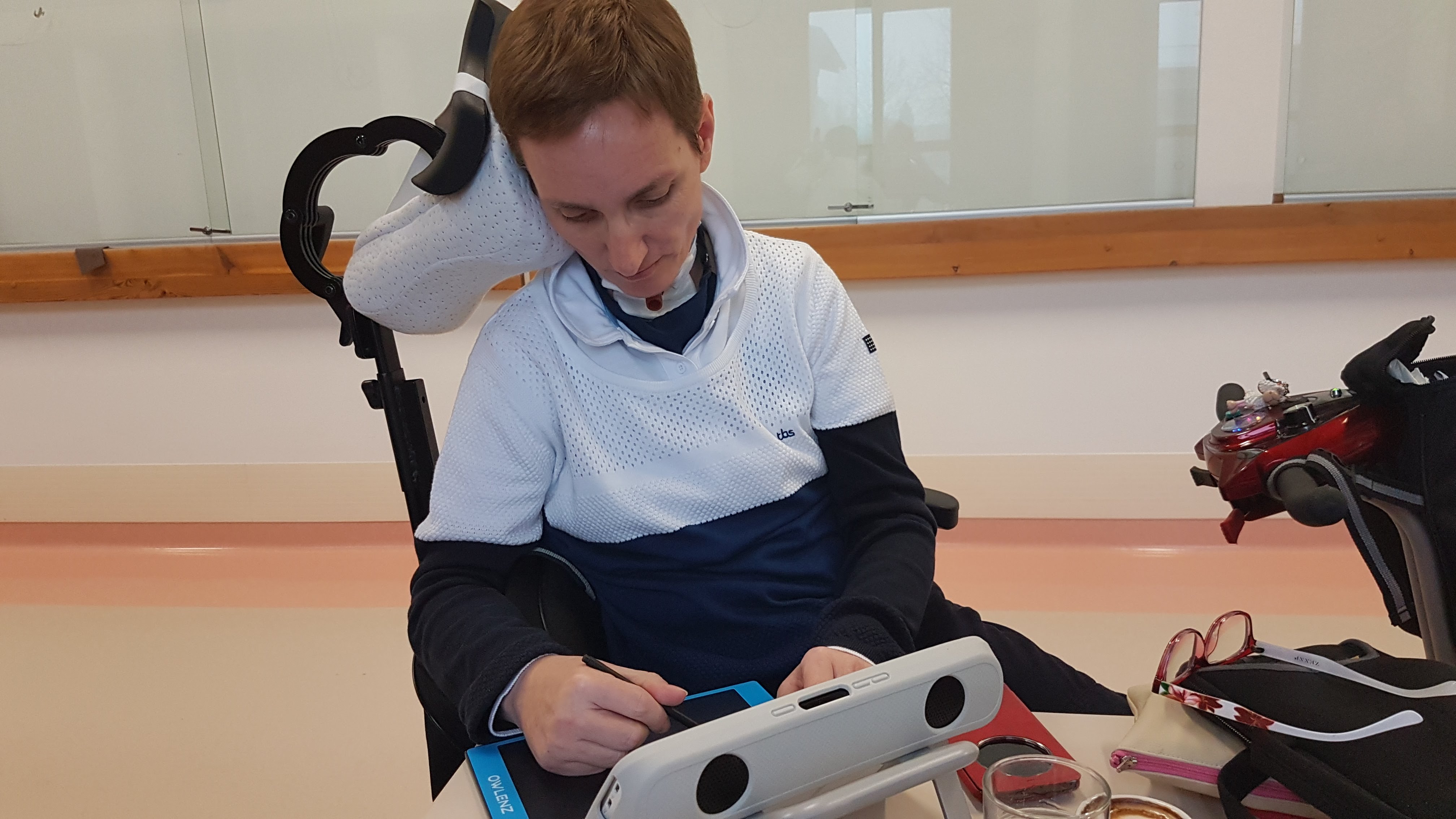 A: And then your attitude was changed by Carvajal's In Conversation With God, right?
S.D.: My parish priest gave me the book on one of his visits. It was only then that I invited Jesus into my heart and started praying again, being grateful and asking for His support.
After five years I still walk with Jesus and let Him be my companion. I would not manage without prayer. My illness is progressing quickly, but since I let Jesus heal me with His words I often hear: "Sara, you look incredibly well."
It goes to show that one's spirit can be seen on the outside. My motto is: "I can do all things through Christ who strengthens me." At first I wrongly assumed that the strength was all mine. Now I know that it is a gift, it is mercy.
A: Sometimes it is hard to accept the completely changed view of life and the world after one's illness.

S.D.: The worsening of my condition actually enabled my progress. Before that, I rarely paid attention to the warnings my body was sending, I did not hear my soul's SOS. I am grateful that I have found my own inner contact, the wisdom of the heart and unconditional love. All these changes are a kind of rebirth.
A: How do your clients and your students react to your condition?
S.D.: Despite my illness getting worse, I did not lose any clients or students. We communicate through e-mails and text messages. When we meet at the office, I use my write-and-wipe board. Since I got my communicator, I have been attending court hearings and lectures.
I ask my clients in advance whether they agree with my modus operandi. Students are quite happy with the electronic speech. Since 2014 a colleague has been helping me with the office work.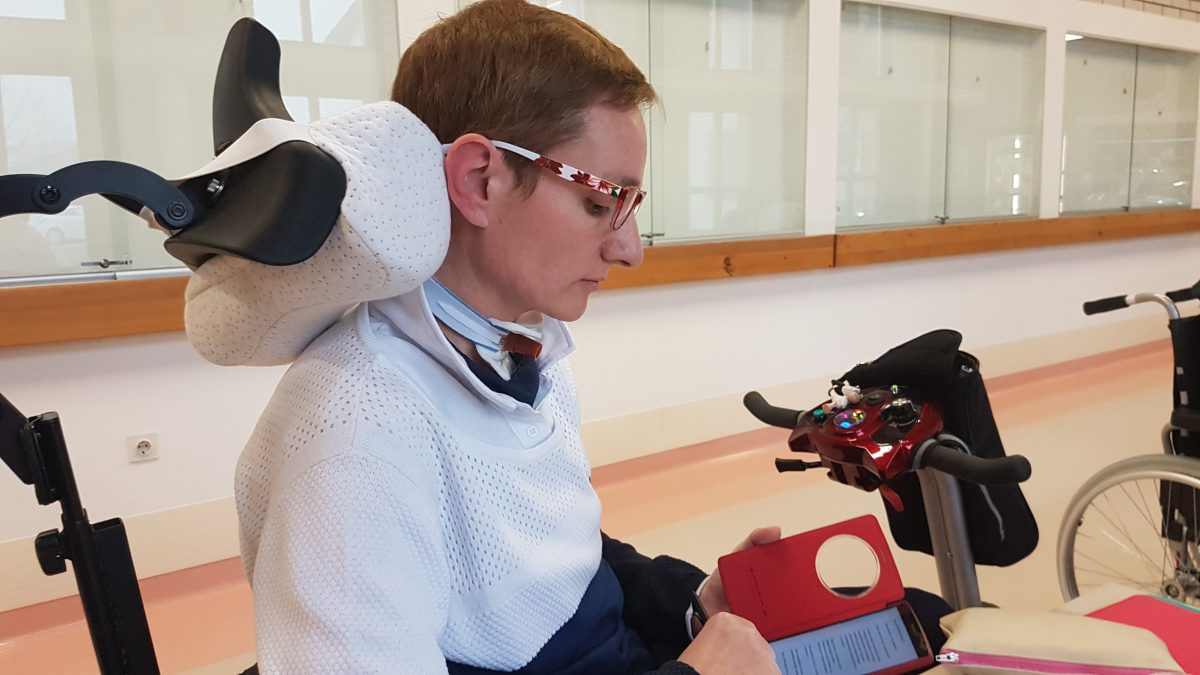 A: What about your other colleagues?
S.D.: Other lawyers are very supportive through text messages and e-mails. Some of them visited me when I was in hospital. If necessary, they stand in for me in court. My faculty colleagues encourage me and include me in the working process, in accordance with my abilities.
I have not built a wall around me. I can still feel, experience, value, confront things if necessary, I can let myself go if it is safe for me, and I can handle new circumstances well. I am capable of accepting new limitations. Thank you, dear husband, Bojan, and Love!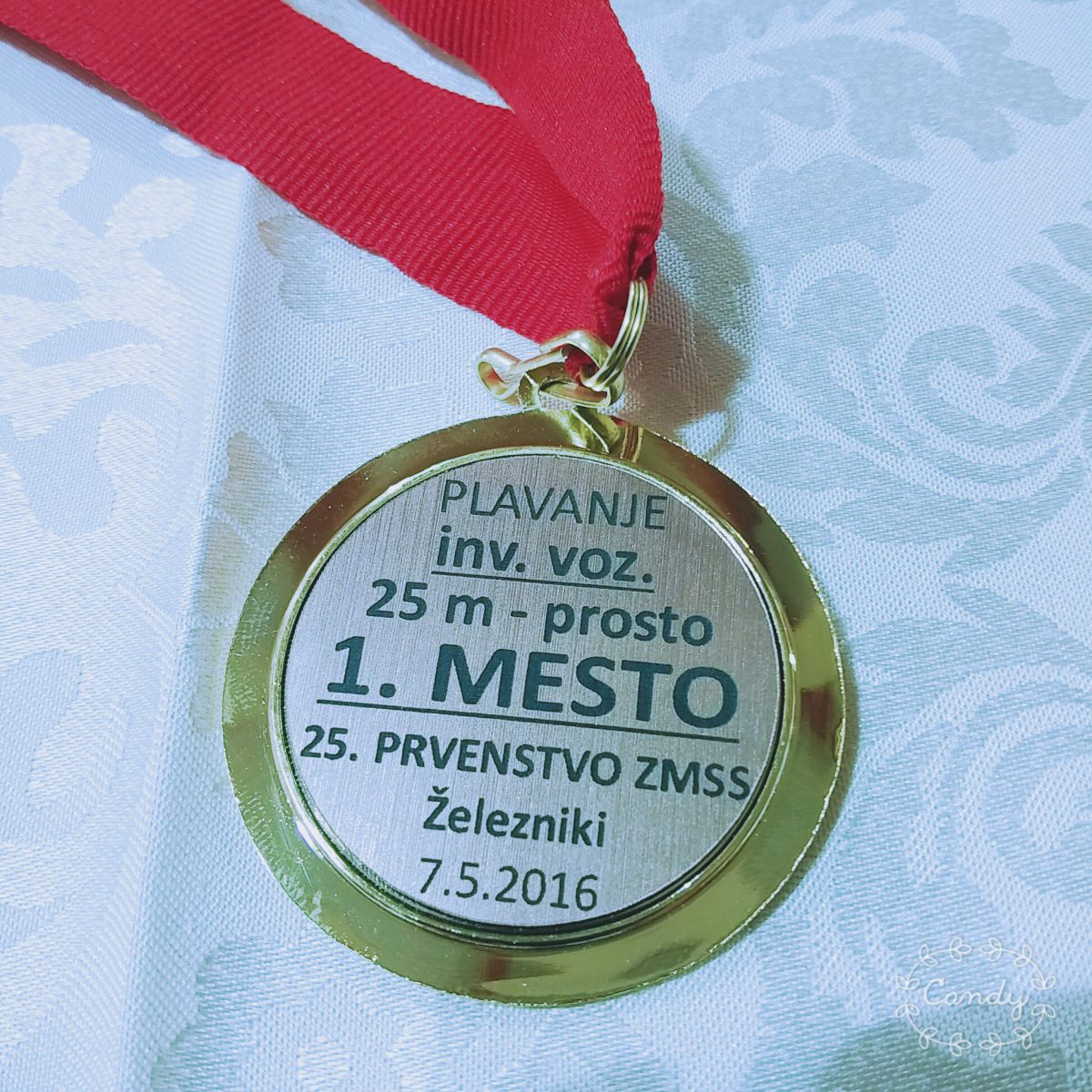 A: You have not been able to speak for the last seven months. How are you handling this latest trial? 
S.D.: Silence is the language of the heart. It has supernatural powers, it is very deep. I have really wanted to hear my own voice. But silence has made me humble and shown me my world more clearly.
I can handle it because I have been given strength and peace. It is very difficult to experience silence in everyday life. I cannot answer the phone or the intercom, I cannot talk to my family. It is much easier to live in silence when there are no disturbing factors. It is the silence in me that is important.
At first, it was very difficult for me to calm the mind and stop worrying about the unnecessary things. I am internalising this moment, no past, no future. Prayers have helped me obtain peace and patience. I am keeping the tracheostomy tube, for some time at least.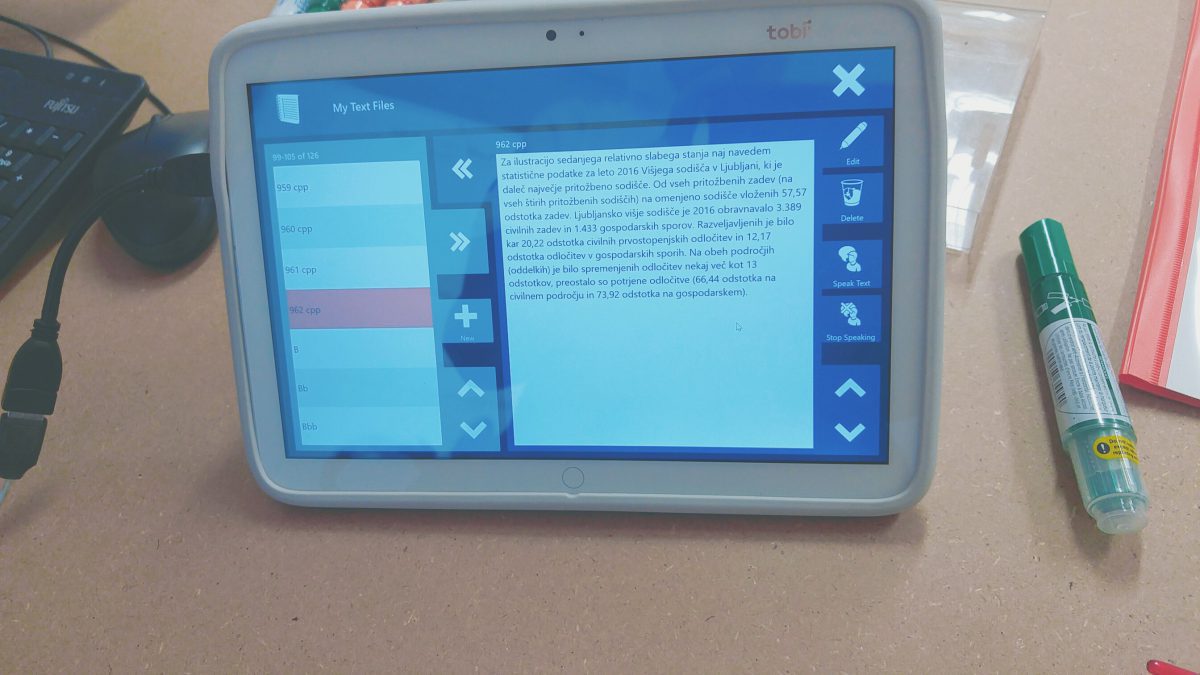 A: With your illness progressing, how is your relationship with your husband?
S.D.: When I was getting worse I started to close myself off. My feelings of powerlessness and worthlessness were increasing rapidly and I was trying to escape our relationship. But Bojan would never give up, he would show me his love and our sacramental marriage vows every day. It took some time before I started believing in our marriage again.
When I finally admitted to myself that Bojan was my ally our relationship started to grow stronger in love and sincerity. Only last summer, six years after my diagnosis, I stopped looking for earthly emergency exits. Only now do I see and feel my husband whom I love with all my heart.
A: The hours you spent together at your hospital bed last summer brought you much closer, did they not?
S.D.: All these years I did not want to see Bojan's quiet presence by my side. He kept letting me feel his love, his support. There were moments when he had to use harsh words to shake me up.
We walk this way together and we are able to stop one next to another. I was too absorbed in my profession, in how to "suppress" my illness; there was hardly any time left for us. Much courage is needed which I get from my love for God and consequently my husband. I entrust our marriage into God's hands.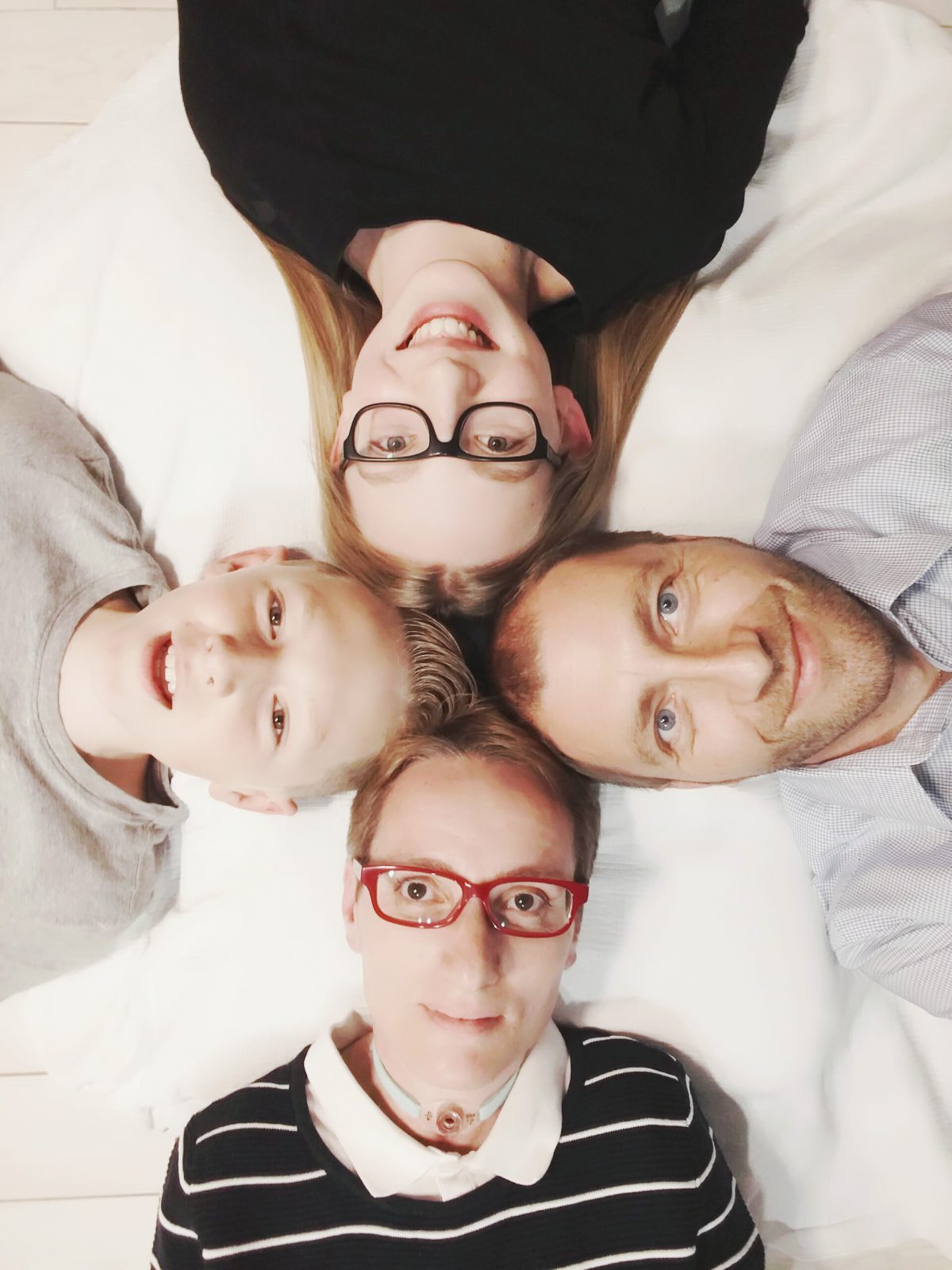 A: How are your children dealing with your illness?
S.D.: They are 11 and 13 and they are growing with the illness. They have a very strong intuition and know exactly when I need rest or help with anything. They help a lot and are very independent. They do all sorts of household chores. We pray together, we talk a lot, there are no "forbidden" subjects in our family.
A: What are your personal goals for 2018?
S.D.: Judging by the last days of 2017 and the first days of this year, 2018 will be, I guess, a pilgrimage of patience and gratitude. I believe that Life is calling me to a greater trust and more joyful witnessing.
This article was originally published in the Slovene version of Aleteia and translated by Mojca Masterl Stefanic for an English speaking audience. 
Read more:
Multiple Sclerosis: Confessions of a daughter to her stricken father