All temperaments are innately and equally good, and each is needed to form a healthy society.
What can God do in your life with one Bible verse a day?
Subscribe to Aleteia's new service and bring Scripture into your morning:
Just one verse each day.
Click to bring God's word to your inbox
Does your bookish son respond to a frenetic "Get on your shoes, grab your coat and get in the car!"  by staring out the window, contemplating the existence of man, and cleaning his glasses?
Does your otherwise bright daughter take two hours to color-code her barrettes, and then talk to you for a really long time about the importance of such an endeavor(while you're busily cooking dinner with a fussy baby on your hip)?  
If you answered yes to any of the above questions, you too may have a Slow Mover.  
Simple things like walking across a room, or eating a pear or (heaven forbid, especially if you have an appointment this decade) hitting the bathroom, more closely resemble the deep winter hibernation habits of bear than those of their own species, or siblings (Note: A Slow Mover is almost always paired directly alongside a Fast Mover because God is merciful and He knows that gardens need to be weeded and not simply pondered).
Take heart, parent, you're not alone. As a mother to several Slow Movers, I've become of student of their wiring, which is absolutely impossible to change (and shouldn't be). But rather than looking at their pokiness as a malady, I've learned to appreciate their many strengths. For example, Slow Movers tend to be thorough. While a Slow Mover will definitely take three hours to clean a bathroom — in the end, those tiles are going to shine. Also, these guys are always extra sensitive, always. They're our baby-holders and birthday rememberers.  


Read more:
How to understand a gifted child


Lately, a book has been helping me nurture my eldest Slow Mover with a little more love: The Temperament God Gave Your Child, written by veteran Catholic counselor Art Bennett and his wife Laraine Bennett. The Bennetts, who are parents to four children themselves, have written several books on the topic of temperaments — the ancient Greek philosophical theory that each person is created with certain in-born personality traits falling into four main categories: choleric, melancholic, phlegmatic and sanguine. The book, which promises to help "motivate, discipline and love your child," recently inspired me to write out a daily schedule for my eldest Slow Mover — oh, the Bennetts would call my kid a melancholic and they'd encourage me to avoid spur-of-the-moment commands that leave him frazzled and undone.    
"When you understand your child's unique temperament," the authors' claim, "you will have the key to unlocking his behavior, moods, and motivational forces."
I found the above statement true not only in regard to understanding my children's temperaments, but also of better understanding the many loved ones in my life — my husband in particular. Speaking of my husband, he's a bit of a Slow Mover himself, and this book showed me why changing plans on him at the last minute often leads to an argument. Likewise, my husband has benefited from learning that my temperament is the polar opposite of his — as a sanguine, I'm cool with a quick change of plan.  
The Bennetts' books are quick to point out that all the temperaments are innately and equally good, each needed to form a healthy society. But above all, a study of the temperaments has shown me how powerful a little understanding can be when it comes to loving, accepting and working together with each member of my family, especially the ones who take 25 years to put on their shoes.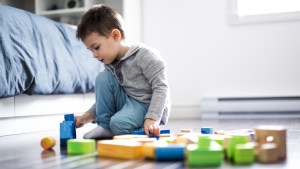 Read more:
A peek into the personality of an only child