The answer might not be obvious, and you might not like it.
Here's an important question: If you were really ready for Holy Week, how would you know?
Perhaps this is an equally important question: What does it mean to be "ready for Holy Week"?
Well, I suppose that a pastor, a choir director, or a sacristan would answer that question differently. What their answers might have in common, I suspect, is that they would be (understandably) quite practical, focusing on things like programs, flowers, hosts, vestments, etc. For the rest of us, I think we should also answer that question about Holy Week in a practical way, yet also in a way that is deeply spiritual, and in a way that will reach beyond Holy Week itself—and, if we do it right, our answer will reach into eternity. (Alas, if we do it wrong, our answer will also reach into eternity!)
As we ponder our answer to the question of what it means to be "ready for Holy Week," we might consider also that none of us knows if we will live that long, or if Our Blessed Lord will return in glory before March 25, 2018. Jesus counsels alertness, because we do not know the day or the hour (Matthew 25:13). And let's recall too that there were times that Jesus "hid himself" (for example John 8:59), because his hour had not yet come.
The "hour" of the Lord came when he was revealed as the Lamb of God on the cross, and his "hour" continued as he was revealed as the vindicated Only-Begotten Son of the Father at his resurrection. Even so, Christ appeared "hidden" to many, because they saw but they did not believe. Even now, it seems that Christ is "hidden"; we wonder why people walk away from him and his Church. A friend is fond of saying: "If God doesn't do something about this mess soon, he's going to have to apologize to Sodom and Gomorrah!" My reply: "Be careful what you wish for …"
When Christ returns in glory, he will appear as the "triumphant Lion of Judah" (Revelation 5:5), coming, as the ancient prayers state, "to judge the living and the dead, and the world by fire." Then Christ will be fully, undeniably, undoubtedly revealed. The best way for us to prepare for "that great and terrible Day of the Lord" (Micah 4:5), is to prepare well to live rightly the events and wisdom and graces of Holy Week, made present again through the Sacred Scriptures and through the Sacred Liturgies of the Church.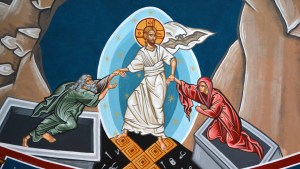 Read more:
Do I believe in the resurrection of the dead?
Now, we may tell ourselves that we are ready to walk with the Lord through Holy Week, to die and rise with him for the life of the world. But can we really be so sure? The choice to be united faithfully with Christ, in his Passion, death and victory is but one option among many, and the right choice is not inevitable.
This Holy Week, we must choose who we will be in the great drama unfolding before us. Shall we be boastful Peter, swearing fidelity but denying the Lord three times? Despairing Judas, who, rather than repenting, dies by his own hand? The self-righteous Pharisees, who should have known better? Scornful Pilate, sneering "What is truth?" Besotted Herod, disappointed because Jesus was not entertaining? One of the fickle mob, waving palms on Sunday and screaming for blood on Friday? One of the brutally dutiful Roman soldiers? Shall we be the Beloved Disciple who finally finds his way to the foot of the cross, who takes the sorrowful mother of Jesus into his home? Looking honestly and soberly at our past, especially Holy Weeks of years gone by, can we be so confident that this year we will finally make (and then live) the right choice?
This Holy Week, the timeless Christ will ask us, in our time, to decide, who he is, and who we are. If he truly is the Son of God and Son of Mary, truly the Lamb of God who takes away the sins of the world, if he truly is our crucified, risen, reigning and returning king, then we must do so much more this Holy Week than simply "keep watch" with him. We have to identify with him, make his suffering and sorrow our own, as the only path to freedom from sin, with a real hope of victory over evil and death. If we are to live worthily, knowing that we are now covered in the ransoming blood of an innocent man, then we must ask for the grace to live this one Holy Week as the week that changed us, for the better, and forever.
When I write next, I will reflect on why there is not a St. Judas Iscariot. Until then, let's keep each other in prayer.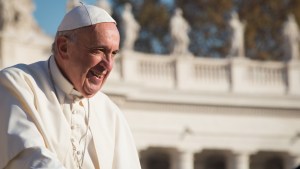 Read more:
Lent is demanding, because love is demanding, says Pope Francis