There are effective ways to help a child cope with fits of anger.
Gifted children can be challenging and exhausting: unable to handle frustration, finding it difficult to accept boundaries, talking endlessly, negotiating the slightest rule or order … However, according to Jeanne Siaud-Facchin, a psychologist who is a specialist in gifted children (see our previous article in which she explains what makes a child gifted), creating boundaries and setting limits is a vital necessity for their emotional development, and the only way to avoid the creation of permanent and escalating conflicts. How should we respond to these tantrums due to a child's heightened emotional state? We've spoken to some experienced moms who share what to do to calm and reassure our sensitive children.
Why are many gifted children challenging and exhausting?
Of course, not all gifted children are difficult; some are more docile and compliant. However, in many cases their extreme sensitivity can lead them to react to the slightest emotional change in their environment. This can result in violent and excessive emotional reactions.
Valérie, a 41-year-old mother of six children, shares her experience: "My children are all hyper-sensitive, but don't all react in the same way. The eldest, at nine and a half (diagnosed as gifted) still has angry outbursts. If it is a reaction to something his brothers have said or done, he shouts, and if that doesn't seem enough, he hits. If his anger is aimed at me, he yells. My second son (eight years old) yells, then runs to his room to calm down. He cusses when he doesn't find a way to cope … My third son (aged 5) cries and needs hugs. He is the only one I manage to help when he's having a tantrum. Personally, I'd say that these tantrums are perhaps one of the most difficult aspects of having a gifted child among so many siblings that I have to cope with on a daily basis, as there are endless opportunities to overreact."
Why do gifted children react so intensely?
Here are a few explanations given by Siaud-Facchin to explain why their reactions are so disproportionate.
Because they can't cope with frustration
Reacting violently when they're frustrated is not the result of mere fussiness, but rather an expression of feeling insecure. In their eyes, having a treat or source of satisfaction put off leaves room for doubt and incertitude. The time between feeling the desire and the satisfaction of this desire is a period in which anything can happen, and they can't stand that uncertainty.
Because they don't know how to wait
Things must happen then and there, otherwise they become invaded by insecurity. Their tantrums can be as intense and frequent as their needs are strong: material needs, emotional needs, the need for availability, and the need for assistance, etc. The slightest delay can cause violent reactions: anger, door slamming, threats, bribes, rolling about on the floor …
Read more:
What Makes a Student "Gifted"? Let Us Know If You Figure It Out
Because they never stop trying to test the boundaries
Their thoughts and their questions are limitless, so they need to feel that some boundaries exist that they can latch on to. In order to ensure that these boundaries are solid, they will challenge and test them. This is why parents can interpret this behavior as acts of aggression, while in reality is is a search for security and familiarity.
Because they suffer from being overwhelmed by their emotions, and hide this emotional responsiveness under aggressive behavior
Gifted children are extremely sensitive and feel humiliated easily, even by a banal remark or a trivial gesture. Everything affects them, because to them nothing is insignificant, but they wish to conceal this emotional fragility, and therefore they react in anger, irritation, and aggression.
How to help a gifted child to cope with their hyper-sensitivity?
Getting ahead of the curve: resist and set clear boundaries
If children manage to obtain everything they want from their parents, it gives them a feeling of complete power. Yet, this feeling causes suffering, as it makes them feel that they are alone — that nobody stronger than them is around to protect them. Resisting your child actually sends them the message of strength and security.
In her book The Gifted Child ("L'Enfant surdoué"), Siaud-Facchin gives the example of Alicia (9 years old), who refuses to let her mother style her hair. She struggles, yells, and says that her mother is mean. Her mother, at the end of her tether, gets annoyed and ends up giving in. In fact, Alicia wants only one thing: that her mother not give in. Alicia wants her mother to show that she will maintain the boundaries necessary to protect her. By agreeing to her daughter's demands, the mother is sending a message of emotional weakness.
It is easier and more consistent for parents to resist their children's demands where clear boundaries were previously set. According to Siaud-Facchin, the parents need to determine what is and what isn't acceptable, and to clearly impose limits on their child; it may even be a good idea to justify the rules, if that helps in their acceptance. These limits are to be established as sacrosanct.
If we look at the example of Alicia, the rule which would reassure the little girl and which would, without doubt, avoid further conflicts with her mother, would be: "It's always mom who styles your hair." The explanation can be very specific  to the parent who gives it and the child receiving it; it could be something like, "This is the rule, because it's quicker, and in the morning we're in a rush," or "We'll do it this way because I want to braid your hair so that you'll look pretty …"
During a tantrum: let them have a fit …
… Then take the opportunity to return calmly to the reasons for their anger, put it into words, and then find a solution to the problem with them.
Mothers share their stories:
Audrey: "I learned, over time, to back off for a few moments to take stock of the situation; then I'm calmer to deal with what comes next."
Bénédicte: "I lead him away from the conflict zone to calm down. Sometimes I gently, but firmly, restrain him (it has a real soothing effect), by holding him in my arms, or by resting my hands on his shoulders if he's standing up. And importantly, we go back to talking about what set off the tantrum, to play down the situation (while not denying the trigger, as the child has the right to his emotions, and these emotions are sometimes very sincere, if excessive!) and find solutions, which he can use when he has to cope with his emotions when he's alone. I try to keep in mind that my getting annoyed doesn't do any good — in fact it just makes matters worse — in order to motivate me to manage these situations calmly when I'm actually feeling exasperated."
Marie-Hélène: "What worked the best with my daughter was cold temperatures. I spent a fair few of her tantrums on the terrace, in the middle of winter, waiting 10 minutes for the cold to help her come to her senses. Reading advice from Montessori and then Dolto taught me to verbalize for her everything that she couldn't express as rage and frustration. At the end of the school day — in elementary school — I established some calm time; lying down on a yoga mat, with 10 minutes of relaxing music, then talking about everything that had upset her in the day. By age 7, things were getting a lot better. There again, I had to dig deep to discover that a fit of anger doesn't necessarily hide frustration, but also possibly a great sadness — for having done badly in a spelling bee, for example. We set up the following code: if you feel you're going to explode, tell me that you need a hug, and I'll understand straight away. That works well."
This article was originally published in the French edition of Aleteia, and has been translated and adapted here for English-speaking readers.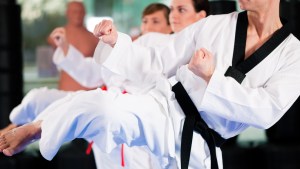 Read more:
Trying to master a new skill? This technique is the secret to success