Early diagnosis could lead to improved treatments and better quality of life.
Research out of the University of Warwick is believed to have found a blood and urine test to detect autism spectrum disorders (ASD) in young children. The first of its kind, this test could contribute to earlier interventions for children with ASDs, promoting greater quality of life for them later on.
ASDs affect an individual's communication, with symptoms including speech impairments, compulsive behaviors, anxiety, and difficulty adjusting to changes in routine or environment. However, symptoms can vary widely, making diagnosis problematic in early childhood. Many experts prefer not to give a diagnoses of autism until a child reaches school age.
But now researchers have discovered a connection between damaged proteins and ASD diagnosis, and the newly developed test relies on blood plasma analysis rather than purely observational diagnostic methods.
According to The Guardian, "Genetic causes are thought to be responsible for about a third of cases of ASD, while the rest are believed to be caused by a combination of environmental factors, mutations, and rare genetic variants. However, researchers believe their new tests could reveal yet-to-be-identified causes of ASD."
You can read more here.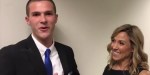 Read more:
This boy with autism learned to sing before he ever spoke (VIDEO)