I ask myself: How am I like that guy, or that woman? And how should I change to be more like the good guys?
Palm Sunday is also called "Passion Sunday" because the Gospel for the day is the entire long Passion account — often read by the priest and two assistants.
The reading is filled with great stuff — a gripping narrative and insights that have changed history.
But for me, I find the best approach is to focus on the minor characters. After all, I am one of those minor characters in the continuing story of Jesus's life. I ask myself: How am I like that guy, or that woman? And how should I change to be more like the good guys? Call it a Palm Sunday Examination of Conscience.
"A woman came with an alabaster jar of perfumed oil … She broke the jar and poured it on his head. There were some who were indignant."
Am I like the woman who anoints Jesus? Do I see how great Jesus truly is, and give him my best, not counting the cost? Or am I like the disciples who count everything, keeping a careful scorecard, and think it is a waste to spend too much of my time — too much effort, too much of myself — on Jesus?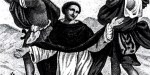 Read more:
Are you serving Christ but making sure you're not 'extreme' about it? This is your saint


"Jesus said, 'One of you will betray me.' … They began to be distressed and to say to him, one by one, 'Surely it is not I?'"
Do I think of myself as above reproach? Do I continually rationalize and prettify all of my behavior in my head so that I come off as a hero? Or do I have an objective view of myself, seeing my weaknesses as well as my strengths? God knows the real me only.
In the Garden of Gethsemane "hesaid to them, 'My soul is sorrowful even to death. Remain here and keep watch.' He advanced a little and fell to the ground and prayed … When he returned he found them asleep."
In what areas of my life am I asleep? Where is it that I know Jesus has asked me to "keep watch" – in my conversations, in my entertainment, on the internet, or when I shop? Do I keep a sharp lookout, or am I sick of trying and just want to turn my conscience off?
"Again the high priest asked him and said to him, 'Are you the Christ, the son of the Blessed One?' Then Jesus answered, 'I am; and you will see the Son of Man seated at the right hand of the Power and coming with the clouds of heaven.' … They all condemned him."
Am I like Christ's accusers? Will I not take Christ's "Yes" for an answer? I have seen again and again how Jesus Christ is exactly who he says he is — exactly who the history of Western civilization says he is. He is the son of God who came in power and changed the world. And yet, I still hesitate. I still balk. I still worry that it's too crazy to believe in Jesus, it's too embarrassing, it's "blasphemy" against the culture. He stands before me, inviting belief.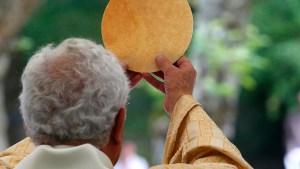 Read more:
The Eucharist IS Jesus, just have faith: Pope Francis
Peter "began to curse and to swear, 'I do not know this man about whom you are talking.' And immediately a cock crowed a second time. … He broke down and wept."
Am I like Peter? Do I easily drop my faith in Jesus? Do I distance myself from Jesus when I'm in a crowd, or talking to someone who doesn't share my faith?
If so, do I react like Peter? Do I feel the pain of my betrayal? Do I repent and wish I had treated my friend better? Do I return in tears, like Peter, or flee still farther … like Judas?
"A man called Barabbas was then in prison. … Pilate, wishing to satisfy the crowd, released Barabbas to them."
Jesus Christ died for my sins to release me from eternal punishment. But the first person his passion released was Barabbas, a rebel who had committed a murder. We don't know what he was like. In the novel Barabbas, he undergoes a conversion. In The Passion of the Christ he is a thug delighted at his good luck.
How do we look at our redemption by Jesus? Are we grateful, letting it motivate a change of heart? Or are we merely relieved, lulling ourselves into presumption? We are like Barabbas: Rescued from a terrible fate that we deserved.
They pressed into service a passer-by, Simon … to carry his cross."
Jesus said, "Whoever wishes to come after me must deny himself, take up his cross, and follow me." Do I do that? Do I find ways to step out of my comfort zone for Jesus every day? When an opportunity to sacrifice arises do I accept it? Or do I grumble — accepting the cross begrudgingly or rejecting it?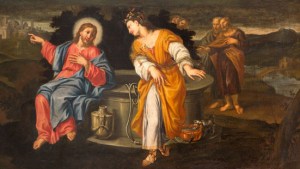 Read more:
These Gospel characters became saints
While Jesus hung on the cross, the people "mocked him among themselves and said, 'He saved others; he cannot save himself.'"
Every mystery of almighty God can only be imperfectly and partially understood by a mere human being. Yet so often, we expect God to fit his gigantic mysteries into our infinitesimal brains.
When something challenges my faith, do I approach it with "faith seeking understanding," praying for light and seeking guidance to see it on his terms, or do I respond with doubt and rejection, demanding God prove himself to me on my terms?
The centurion said: "Truly this man was the Son of God!" and "There were also women looking on from a distance. … These women had followed him."
Finally, what is my public witness to my faith? When I am convinced of Jesus Christ and his power in my life, am I willing to say so in front of others?
Or do I prefer to look on from a distance, keeping close enough for my comfort, but not too close?
The Gospel lists women at the cross who risked much to be with Jesus. What do I risk?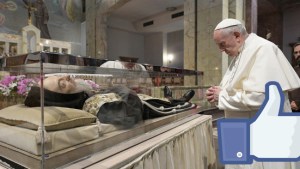 Read more:
It's not enough to "like" the saints, says Pope Francis