Parental affection -- even when considered "extravagant" -- protects our children in important ways.
About the time he turned 7, my oldest son Liam started wiping my kisses off his head. In response, I gave him twice as many kisses and teased him at night about how I would sneak in when he was sleeping and cover him with kisses. He would protest loudly — with the biggest grin ever on his face.
My oldest daughter recently entered the funhouse of adolescence, wherein she no longer gives or receives hugs but merely tolerates my hugs. At first I felt hurt by her lack of affection — she'd always been affectionate and we'd always had a close relationship. I even started pulling back from my impulses to hug her. But then I thought of Liam and his fake-kiss-hatred, and remembered my own adolescence where the one thing I wanted more than anything else in the world was to feel loved and secure, and I knew that pulling away wasn't the right move.
A recent ThriveGlobal post pulled together the results from several studies on the way parental affection impacted a child's development, from infancy well into adulthood. There were two that jumped out at me as relevant in my current teenage struggles, because they focused less on affection in infancy and more on general affection shown through a person's childhood years — and how parental affection classified as "extravagant" resulted in children who were less anxious, less depressed, and more compassionate as adults.
Next, a 2013 study from UCLA found that unconditional love and affection from a parent can make children emotionally happier and less anxious. This happens because their brain actually changes as a result of the affection. On the other hand, the negative impact of childhood abuse and lack of affection impacts children both mentally and physically. This can lead to all kinds of health and emotional problems throughout their lives. What's really fascinating is that scientists think parental affection can actually protect individuals against the harmful effects of childhood stress. Then in 2015, a study out of the University of Notre Dame showed that children who receive affection from their parents were happier as adults. More than 600 adults were surveyed about how they were raised, including how much physical affection they had. The adults who reported receiving more affection in childhood displayed less depression and anxiety and were more compassionate overall. Those who reported less affection struggled with mental health, tended to be more upset in social situations, and were less able to relate to other people's perspectives.
This seems pretty intuitive to me, and also one more reason to keep hugging my recalcitrant teenager. I wish I could tell you that I kept hugging and kissing my kids even when they acted like they wanted to get away from me and they turned out to be the most well-adjusted, Habitat-for-Humanity-building adults in the history of this millennium, but I can't. All I can tell you is that they still complain about my hugs, but also they still stand really close to me and say nothing until I hug them — and they might protest, but they also lean against me and relax.
That's proof enough for me that kids need hugs no matter how much they might think they don't — just as I did.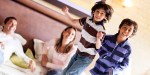 Read more:
Do you have a "perfectly imperfect" family? Then you're in luck