Stressed with parenting? This is how to get the Queen of the Universe on your side.
You can get Aleteia inspiration and news in your inbox. Our specially curated newsletter is sent each morning. The best part? It's free.
Sign up here
Every parent knows raising kids is stressful, and stays on the lookout for anything or anyone who can make the job a little easier. So if someone comes along and places before them the wisdom, power, and resources of the Queen of the Universe, any parent is sure to jump on the opportunity.
That's what Carrie Gress has done in her latest little book, Marian Consecration for Children.
Aleteia asked Gress to tell us a bit about this consecration, and how she's managed to make it accessible for kids.
First off, tell us what Marian consecration is.
Gress: Marian consecration is an old spiritual exercise where a soul entrusts himself to Mary in a deeper way. St. Louis de Montfort popularized the idea, saying that a relationship with Mary is the shortest route to heaven. As our spiritual mother, she leads us to her Son.
I've come to think of Marian consecration as spiritual Kevlar because a relationship with Mary significantly helps our own spiritual growth. Usually, it doesn't happen overnight, but when a consecrated soul looks back on their life, the new path is quite discernable.
Why Marian consecration for children?
Parents often consecrate their children, particularly those who have fallen away from the Church, to Mary and Jesus, but that still leaves an intermediary – the parents. Knowing how powerful consecration is, I became convinced that it could be a powerful gift to children – to strengthen their relationship to the Mother of God. Given our current culture, children face so many tough realities.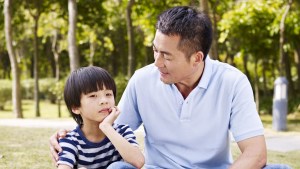 Read more:
What I told my 7-year-old when he asked what porn was
A couple of years ago, I decided to help my own children consecrate themselves to Mary, but I couldn't find a resource that was for their age group. I cobbled together a makeshift consecration for them, but it didn't capture their attention, ignite any kind of a sense of wonder, or a desire to go deeper into their relationship with Mary. After writing The Marian Option, I knew that there was plenty of material about Mary out there to do these things for kids, it just had to be presented in the right way.
And how does this book guide children to this consecration?
St. Louis offered a way to help adults consecrate themselves to Mary through a 33-day process, with the 34th day being the day when one actually prays the prayer of consecration. But as anyone who has read St. Louis's work can say, the prose is quite dated and dense. It is challenging even for adults.
I followed St. Louis' outline and some general themes in his work, but I wanted to help children see two things: first, how much Mary loves them and wants to be a mother to them, and secondly, how even now as children, they have an important mission in the world. I think our culture makes most children feel like they can't be really useful until they are big, but this consecration turns that idea on its head by looking at how important children have been in Salvation history.
The process comes to an end on the 34th day when the child prays the consecration prayer.
How did you make the challenging themes related to Marian consecration accessible to children?
This was something I wrestled with for some time because I didn't want the book to be dry and boring. How do you make lofty theology interesting for 5- to 10-year-olds?
What finally struck me was that I could use stories and concepts that children already know, based upon the books they have already read (or that have been read to them). As adults, we use this kind of shorthand all the time; just think of the many Shakespearean or biblical phrases we use regularly. Why not do this with kids? So, I pored over our stacks of favorite books and pulled out stories from The Chronicles of Narnia, Winnie the Pooh, Anne of Green Gables, Dr. Seuss, knights and princesses, and so on. It was fun to find stories that fit the ideas that I was trying to make clear.
This book is also great for families to use together. Each day includes a few discussion questions and some fun bits of trivia that even most adults don't know about Mary, the Rosary, and their influence in our world.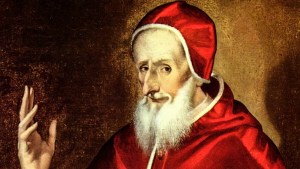 Read more:
The 6-year papacy that saved Christendom: The story of St. Pius V