Enter into Jesus' bitter pain with these prayers.
Starting in the 12th and 13th centuries, there arose an increase in devotion to the wounds Jesus' endured during his passion. It was promoted by many saints as a way to foster a renewed love of Jesus, seeing how much he suffered on account of our sins.
Most recently Pope Francis has promoted this devotion, reflecting on it at the Angelus address of March 18:
Do not forget this: look at the crucifix, but to look within it. There is this beautiful devotion to pray an Our Father for each one of the five wounds: when we pray that Our Father, we seek to enter through Jesus' wounds inside, inside, right to His heart. And there we will learn the great wisdom of Christ's mystery, the great wisdom of the cross.
Below and on the next several pages is one way to enter into the many wounds of Christ. It is called "Prayers to the Holy Wounds of Christ" found in the Raccolta, a collection that dates to the early 19th century.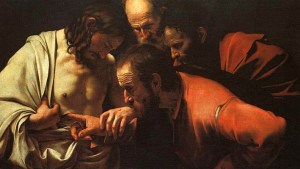 Read more:
The powerful devotion to Jesus' 5 Holy Wounds
Act of Contrition
As I kneel before Thee on the cross, most loving Savior of my soul, my conscience reproaches me with having nailed Thee to that cross with these hands of mine, as often as I have fallen into mortal sin, wearying Thee with my monstrous ingratitude. My God, my chief and most perfect Good, worthy of all my love, for the many blessings Thou hast ever bestowed upon me; I cannot now undo my misdeeds as I would most willingly; but I will loathe them, grieving greatly for having offended Thee who art Infinite Goodness! And now, kneeling at Thy feet, I will try at least to console Thee, to give Thee thanks, to ask of Thee pardon and contrition; wherefore with heart and lips I say:
To the First Wound – Left Foot
Holy wound of the Left Foot of my Jesus! I adore Thee, I console Thee for the most bitter pain which Thou didst suffer. I thank Thee for the love whereby Thou wast wearied in overtaking me on the way to ruin, and didst bleed amid the thorns and brambles of my sins. I offer to the Eternal Father the pain and love of Thy most holy humanity, in atonement for my sins, all which I detest with sincere and bitter contrition.
Recite an Our Father. Hail Mary and Glory Be.
Holy Mother, pierce me through,
In my heart each wound renew
Of my Savior crucified.
Click on the pages below to progress to the next wound.