Memorial for Monday following Pentecost should take precedence in most situations
A notification from the Vatican's liturgy congregation has clarified that the new Obligatory Memorial of the Blessed Virgin Mary, Mother of the Church, must be celebrated in the Ordinary form of the Roman Rite beginning this year.
The new feast is to be observed on the Monday following Pentecost.
The notification, signed by Cardinal Robert Sarah, the Prefect of the Congregation, notes that an exception still exists, in accordance with the rubrics in the Roman Missal: "Where the Monday or Tuesday after Pentecost are days on which the faithful are obliged or accustomed to attend Mass, the Mass of Pentecost Sunday may be repeated, or a Mass of the Holy Spirit may be said."
Nevertheless, the document insists, "all else being equal, the Obligatory Memorial of the Blessed Virgin Mary, Mother of the Church is to be preferred."
Because Pentecost is a movable feast, tied to the celebration of Easter, it is possible that the new Memorial could coincide with another Memorial of a Saint or Blessed; and when this happens, the feast of Mary, Mother of the Church, will take precedence.


Read more:
Why we should work on loving Mary as a favor to Jesus


The new feast was inserted into the Universal Calendar for the Latin Church earlier this year by Pope Francis, in a decree dated February 11, the 160th anniversary of the apparition of Mary at Lourdes.
Previously, permission to celebrate a feast of Mary had been extended to Poland and Argentina, as well as St Peter's Basilica, and several Religious Orders and Congregations.
The title of "Mother of the Church" was famously bestowed on the Blessed Virgin Mary by Blessed Pope Paul VI during the Second Vatican Council. The understanding of Mary's motherhood has developed in the decades following Vatican II, especially as the Church has reflected on the Council's teaching about Mary in chapter 8 of the Dogmatic Constitution on the Church (Lumen gentium).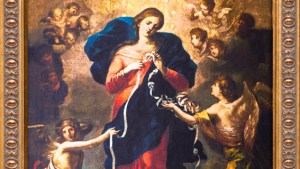 Read more:
Who is Mary, Undoer of Knots?