Tagle tackles questions taken from the liturgies of Holy Week, but which apply to all of us
Cardinal Luis Antonio Tagle, the archbishop of Manila, is reflecting on the great questions of life in a mini-series for Holy Week.
The Word Exposed is producing a series of webisodes titled "Enduring Questions."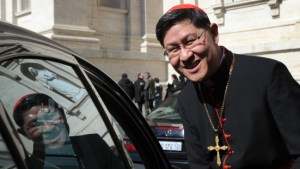 Read more:
This Filipino cardinal could one day be pope; for now, he tells us how he nearly missed being a priest
You may hear his reflections here  from Holy Thursday to Holy Saturday.
Produced by Jesuit Communications (JesCom) in partnership with Bayard Philippines, the online episodes seeks to delve deeper into certain questions mentioned in the readings and liturgy of the Holy Week: "Are you the king of the Jews"; "Do you understand what I just did for you"; "What is truth"; "My God, why have you forsaken me?"
According to the prelate, these questions are "not accidental" but rather are key to a "greater understanding" of the Paschal Mystery of Our Lord.


Read more:
Cardinal Tagle tells convention of exorcists: Mystery of love conquers mystery of evil