The world was being set right, redirected, brought closer to its creator and redeemer ...
You can't look for your wife at a time like that without having people either look away or glare at you. Our church had a penance service Monday night. I had just gone to confession, so I dropped my wife at the church and drove 10 blocks to the other end of the small town on the river, to take some things to St. Vincent de Paul. I assumed, and this was stupid, that I'd come back to find her in a short line or sitting in the pews.
At Mass the day before, our pastor had reminded us of the service. "We'll have seven priests," he said, emphasizing the number. "We'll feed them well, we'll pay them well …" His voice trailed off and he paused, then looked around at the congregation. "I hope they'll have something to do."
The long lines
They did, which is why I couldn't find my wife. The church had long lines down every aisle going to the front and to the back. It even had lines down both side aisles and up the stairs to the choir loft for the priests there. Lots of people sat or knelt in the pews.
I found her, naturally, in the last line I checked. She was five or six people down, standing next to the shrine with the Pieta, and the old large statues of St. Anthony of Padua, St. Pio, and St. Therese of Lisieux. I light a candle and pray at that shrine after every Mass, and felt pleased she was there. I found a pew on the right side where I could see her, prayed a bit, and then sat and watched the people going to confession.
You want to feel comforted and encouraged? Just sit in the church during a penance service. I was there only as the taxi driver waiting for his fare, or so I had thought.
Every kind of person stood in line. There were the well-dressed people stopping by on the way home from work. As is inevitable here, there were the people in Penguins jerseys. There were mothers and fathers with their children, a lot of older people, some alone, some with spouses, and what seemed to be groups of friends. Every line even had a few 20-somethings — not enough, but some.
I could see our pastor and the elderly priest. My wife told me later that the old priest was 86 and that he was hearing confessions on his birthday. He sat in the open with his wheelchair at the end of the second pew. People sat on the pew next to him and leaned over to talk into his ear. Many put their right arm around his shoulder or their right hand on his back. They'd walk back down the pew afterwards, a few pews in front of me, and most were smiling.
Our pastor heard confessions sitting between the altar and the high altar. He and the penitent sat sideways, so their voices wouldn't carry out to the people in line. Slouched a little in his chair with his legs crossed, he looked like a man who was there to listen. He nodded a lot and talked some. He'd lean forward to give the absolution. From where I sat, the Tabernacle seemed to hover over his head.
The people leaving him I couldn't see but I suspect, knowing him, most were smiling. He spent a long time with everyone. So did all the priests, judging by how slowly the lines moved.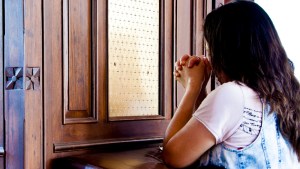 Read more:
This prayer to St. Joseph can help you prepare for confession
Comforted and encouraged
My wife came out of the room and came back to pray her penances about half an hour later. As I waited for her, all I could see was two priests at work and several lines moving very slowly, but what God was doing there comforted and encouraged me.
All around me eight people were confessing their sins to eight different priests who'd given their evening to telling people God loves them. Those eight people were getting counsel, telling God how sorry they are and asking his help to do better, and hearing the priest speaking for God declaring their sins forgiven. Dozens of people were waiting to do and to hear the same thing, while others prayed Our Fathers and Hail Marys as the priest had told them. Some were fulfilling what used to be called our "Easter duty," and some were coming back to confession or even to the Church after months or years away.
Every confession is a conversion, a turning, a transformation of a sinful creature into a holy creature. The world was being set right, redirected, brought closer to its creator and redeemer, a little, in the lives of all the people who came to St. Joseph's church for the penance service on the Monday of Holy Week. Very quietly and methodically, without the drama and spectacle we expect from worldly transformations. It was good to be there.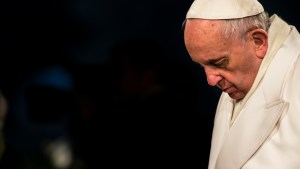 Read more:
'How truly difficult it is to let ourselves be loved!' Read the pope's moving message before confession