If Jesus' very weakness is strength, then we can be strong, too.
Each year Easter is a new beginning for us, not because it tells a story about the past, but because it tells a story about today.
Without Easter, we were failures. With it, the readings for this Easter Sunday tell us, we are much more.
We long ago settled for mediocrity. Easter makes greatness possible.
From our youngest days, we are carefully trained to be failures. That sounds harsh, but it's true.
Maybe we watched the Olympics as children and dreamed that we would be gold medalists one day — then life taught us that big dreams don't come true. Or perhaps we sat down to draw a beautiful picture that we saw in our mind, only to produce a mockery of what we hoped had for — and people praised it anyway, applauding our mediocrity.
The same dynamic continued throughout our life: We decided to reform our lives, only to learn that our will power is weak; we botched one attempt at success after another — and accepted smaller hopes.
Life teaches us that we are mediocre, at best; a disaster at worst. But Easter teaches us the opposite.
It happens when the disciples find the empty tomb. Suddenly, the failure of Jesus is turned to glory.
If that's true for him, it's true for us, says St. Paul in the Second Reading, "For you have died, and your life is hidden with Christ in God. When Christ your life appears, you will appear with him in glory."
Easter turns our bodies' weaknesses into strengths.
We have grown used to thinking our bodies are not us. When we were little, we couldn't get them to work right; later, they made demands that we couldn't control.
Today, we try to escape from our bodies by presenting them in just the right way on Facebook or Instagram; our carefully cultivated images become the ultimate "bearing false witness" to others.
The Resurrection changes that.
Before Easter, the cross looked like the best argument yet that our bodies just get in our way. The beautiful teachings and magnetic personality of Jesus were useless because he had hands and feet that could be nailed and a chest that could be lanced.
After Easter, Jesus is revealed to be the Resurrection and the Life, the one who triumphs not despite, but through the weakness of his body.
If Jesus' very weakness is strength, then we can be strong, too. We no longer have to make our bodies as perfect as possible. We need to make our sacrifice as perfect as possible.
Now, our bodies can be as far from perfect as John Paul's and Mother Teresa's became, and we can still be as beautiful in Christ as John Paul and Mother Teresa were.
Easter also erases our excuses.
Easter thus becomes an urgent call to do more. Peter feels it in today's readings.
In the Gospel, John ("the disciple whom Jesus loved") and Peter race to the tomb in response to Mary's report. John gets there first, but then stops and waits for Peter to go in.
Peter understood what that meant. John did not define him by the denials he had made of Christ, but by the leader Christ had made of him.
In the first reading, from Acts, Peter becomes that leader. He stands up and tells the world that there is no denying it: "God anointed Jesus of Nazareth with the Holy Spirit and Power."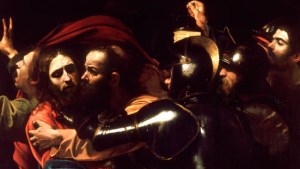 Read more:
Why isn't Judas Iscariot a saint?
Everything he says thereafter is true of our lives: We, too, are "witnesses chosen by God in advance, who ate and drank with him." We too, are supposed to "testify that he is the one appointed by God to judge the living and the dead."
We can no longer stay silent. Easter urges us to tell the world what we have seen; to redirect more people from mediocrity to greatness.
Easter turns our regrets and misgivings into a new beginning.
Good Friday had been the crowning defeat of the disciples' whole lives, the embarrassing end to yet another attempt to be special. Jesus dying on the cross meant that everyone who told them they were wasting their time following Jesus was right.
But Easter makes all our old defeats ancient history. Today, our old lives are "buried with Christ in baptism." Today, "we may walk with him in newness of life."
We need not worry if it seems like too much, too hard; yet another promise destined to fail. This effort will succeed even if we mess it up.
Because it is Christ's effort that matters, not ours. And he always rises from the dead.