Counting calories is not the answer.
What can God do in your life with one Bible verse a day?
Subscribe to Aleteia's new service and bring Scripture into your morning:
Just one verse each day.
Click to bring God's word to your inbox
I'm starting to get frustrated with our collective approach to nutrition, particularly when it comes to children. I understand that we're in the  midst of an unparalleled obesity epidemic that is literally killing people, including children. I also know that there are a myriad of causes, and we would be foolish to not address them all. But the unilateral approach to prevent or cure obesity by regulating caloric intake is not just wrong — it's dangerous. Particularly when it comes to babies, like this study in New Zealand that attempted to measure the effects of baby-led weaning on obesity that The New York Times recently reported on.
The results were disappointing. The study found no significant differences in the children's body mass indexes at 12 or 24 months. Even when researchers restricted the analyses to the most adherent subjects, there were no significant differences over all in BMI.

The good news is that babies ate on their own: Parents can be reassured that coaxing their infants to eat more is not the only thing keeping them from malnutrition. The bad news is that more than 10 percent of the infants in the intervention group were overweight by 2 years of age. One of the most significant predictors of being overweight as an adult is being overweight as a child.
Did you know that almost all obese people suffer from malnutrition? That's because the more processed foods you eat, the more nutrients your body requires to process them. But processed foods are notoriously low in nutrients.
One of the ways malnutrition affects the body is by slowing the metabolism. This is partly because our bodies require adequate nutrients to function properly, and partly because our bodies try to protect themselves by lowering energy expenditure during malnutrition. A slower metabolism means weight gain, but that weight gain doesn't necessarily reflect excessive caloric consumption.
Of course, most people do consume excessive calories — in part, because their bodies are telling them they're malnourished. But I rarely come across reports on obesity that even mention the link with malnutrition — and forget about hearing that obese people need to eat more nutrients. Eat healthier, yes. Eat cleaner, yes. Eat less, yes. But those are vague ideas that are too often weaponized to shame obese people for their perceived lack of self-control.
Even in this study on infants, the only time "malnutrition" was mentioned was in direct relationship to caloric consumption. The only apparent marker of health the study used was BMI, a notoriously poor measurement scale when it comes to actual health. By focusing on weight, the researchers overlooked something pretty essential — sufficient nutrient intake.
We need to stop talking about caloric intake and start talking about nutrient deficiency. When an obese person hears that they need to "eat less" or "eat healthier," what are they going to take away from that? Conversely, what would it look like for an obese person to hear from a concerned physician that they are "extremely — even dangerously — malnourished?"
Obesity is not a reflection of the quantity of our food as much as it is a reflection if its quality. If we really want to get a handle on the obesity epidemic, we'll start tackling the supply of processed foods overflowing in our supermarkets and pantries by reducing the demand. But we'll only get there if we stop shaming, stop focusing on caloric consumption, and stop obsessing about weight as the end-all marker of physical health.
Instead, let's focus on what people need more of to be healthier and happier. We need more nutrients, more exercise, more sunshine, and more social interaction. All of those things are linked to obesity and declining mental health — and none of them can be fixed by counting calories.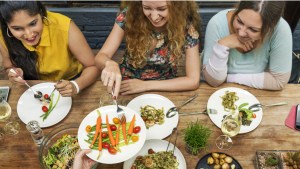 Read more:
Want to lose weight? You may need to eat more