A Millennial thinks the truth is much more powerful than made-up stories.
As far back as I can remember I've felt a deep-seated distrust of the Easter Bunny. I had just gotten over suspending my disbelief that a man could squeeze down millions of chimneys in one night and then I was expected to believe a rodent could achieve the same feat?
Sure, I liked waking up to a big basket full of candy, but while I devoured it there was always something that just didn't sit right. Maybe it was the sugar, but as I matured I began to question more than just the Easter Bunny; I questioned Santa first and eventually, in my later teenage years, my faith itself.
We are taught about these faith fables, Santa Claus and the Easter Bunny, when we are at our most impressionable. They surround the two biggest holidays on the Catholic Church calendar and often, since children who have not reached First Communion age are not expected to fully participate in Mass, we are taught about the birth of Jesus in the same breath as Santa Claus.
Then one day we wise up. The illusion breaks, be it from Santa Claus clearly being Uncle Joe in a fake beard or the idle chatter of friends at school. When this happened to me I initially felt embarrassment that I was duped for so long, and then anger that I was lied to. Of course this was followed by worry that the gifts would stop coming in, but I was only a kid after all.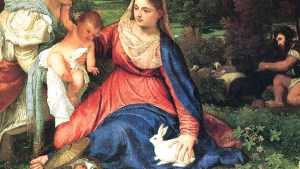 Read more:
Don't ditch the Easter Bunny!
There is something insidious about the whole idea that we must mix fantasy with reality. Jesus rising from the dead is not the feat of a normal man and requires belief, but we poison the well of belief by mixing his Truth with lies we know our children will outgrow.
How then can we question why the Millennial generation has the lowest rate of church attendance yet? When faith is attached to fables to be outgrown, how do we expect them to not assume faith is to be outgrown as well? 
Not only does this affect the whole process of faith learning, but it establishes in our minds that the two holiest days of the year are days when our focus, and our expectations, become materialistic, rather than spiritual. It's like we've been trained to a Pavlovian trigger and response: as we grow up the holidays come, but now they're more rightly holy days, yet our mouths are still watering for the physical treats over the spiritual feasts. Once the pleasure receptors in our brains stop being stimulated, we're not sure what to do, because we haven't been better trained.
I contend that it's in the best interest of our faith, and its future, that we put aside the secular aspects of our holiday and holy day traditions. There is more than enough wonder and mystery in the real meanings of the celebrations to capture the imaginations of our kids. Perhaps instead of making up stories for children to believe in, we can tell them about the real miracles of Christ, the gifts enjoyed by the saints, the life altering value of faith, and the ultimate power of God.
After all, belief is a challenging concept, and shouldn't be wasted on unworthy tales.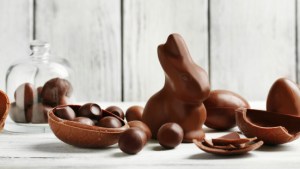 Read more:
The mysterious origins of popular Easter symbols