Most of us, I think, spend a lot more time on Holy Saturday than we realize ...
The Triduum is always a rather full few days for those who are trying to live liturgically. You've got the Mass of the Lord's Supper and then some late night adoration—possibly at several churches—followed by a marathon of services on Friday. Morning prayer, perhaps, and certainly Stations at some point. The Liturgy of the Lord's Passion, long and painful, with maybe a Seven Last Words service mixed in and even Tenebrae if you're lucky. But the end of Good Friday, you're hungry and tired.
And then comes Holy Saturday and … nothing.
Nothing until the late night Vigil, that is, but that leaves you with 12 long hours to fill. It's not a time for Easter egg hunts or for meditating on the Resurrection (though I won't begrudge you some cooking and decorating for Easter). Nor should we really still be sitting in the pain of Good Friday.
On Holy Saturday, churches are empty and our hearts, as well. It's a day of blank stillness, a day when we wonder how to fill our lives.
I like to sit at the tomb. I imagine Mary keeping vigil there, knowing as she does what is to come. And so I go to the tomb and sit with my Mother, keeping her company.
For years, it felt as though my job on Holy Saturday was to console her heart somehow, as though I, with my poor, shallow knowledge of the Paschal Mystery could shed any light here. But recently I've come to realize: I don't wait with Mary to console her. Certainly, she wept at the foot of the Cross, her soul pierced by a sword. And laying her beloved son in the tomb must have nearly destroyed her, even though she knew it would only be for a few days. Death is ugly even when resurrection has been promised.
But I don't think Mary was disconsolate on Holy Saturday. If she waited at the tomb, it wasn't because she was consumed by grief but because she was filled with hope. And so I spend Holy Saturday keeping her company so that I can learn from her what that hope looks like.
We live our lives in the pattern of Jesus. Some days are full of angels singing Gloria, others just a matter of ordinary labor. Some of us spend years and years in Good Friday, trying to hang on through the agony in the anticipation of Sunday coming.
Most of us, I think, spend a lot more time on Holy Saturday than we realize. We've gone through the pain of crucifixion, of death or divorce or heartbreak or stroke, and come through the other side, yet somehow resurrection is nowhere to be seen. God has promised us abundance of life, joy that is complete, and we live in the monotony of anguish dulled with no true healing yet accomplished.
In our lives, Holy Saturday is much longer than the 12 hours we spend on it each year. In our lives, Holy Saturday is the years and years of waiting for our longings to be satisfied, our aches to be removed.
Some of us have been so traumatized by the Good Fridays in our lives that we walk dazedly through years of Holy Saturday, living like the disciples who've been promised a resurrection but don't truly believe that it will come. Maybe, like Mary Magdalene, our pain sends us rushing back to the tomb, but in grief, not expectation. Maybe, like the disciples who fled to Emmaus the first chance they got, we're looking to run from our Good Friday, to end the pain however we can or ignore it if we can't. We have suffered and so we hide or wallow or run or give up in despair—if God has been killed, how can there ever again be joy?
But Mary waits in hope. It doesn't make Good Friday less evil, but it means that the evil doesn't rule her. She acknowledges the pain she has suffered, maybe even allowing herself to be miserable for Good Friday. But on Holy Saturday, as Jesus is doing his work of vanquishing hell, Mary is doing hers: she is waiting not in glib tranquility but in sometimes agonized hope, and teaching her children what that looks like.
Today, we sit beside the Blessed Mother as she mourns her Son and waits breathlessly for his return. Today, we learn what it is to live in Holy Saturday while trusting that Sunday is coming. Today, we balance sorrow with hope. Today, we tell the Lord that we trust him, absent as he may seem from our lives. We trust that however long Holy Saturday might be for us, he is coming. Some day, that Easter sun will dawn and all will be glory. Until then, we will sit with his mother and learn what it is to hope.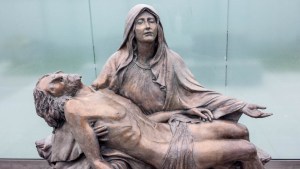 Read more:
We have no choice but to suffer … here's how to make sure it doesn't define us