The director of 'Summer in the Forest' says his experience of making the film changed his life.
Maha, 25, reaches for a cup of tea. Her hands, contorted and twisted, make grasping the glass difficult. Her mind, weak and fractured, seems to struggle with the puzzle before her. She touches the glass one way, then another, feeling her way through the problem. Then, finally, she manages to grasp, then lift, the glass gently — gracefully — to her lips.
Randall Wright's new documentary Summer in the Forest, opening in Los Angles April 6 and select locations nationwide the following week, is rich in imagery, but perhaps this moment speaks louder than the rest.
Summer in the Forest focuses on L'Arche, a community founded by the Catholic philosopher and theologian Jean Vanier. Vanier's program is about brokenness. But it's also about grace and community and, in its own understated way, God. In the midst of the fragility so obvious on screen, we see the inherent value and beauty of life.
L'Arche, which encompasses 149 separate communities in 37 different countries, serves people that society considers "broken" — mentally disabled or clinically insane or both. But at L'Arche these people are shown dignity and friendship. And in the midst of what could be a desperately sad, frightening movie, director Wright's film finds beauty, grace, love and hope.
In the documentary, we meet Michel, who suffered brain damage at the hands of a doctor when he was just six months old. When it was clear that Michel wasn't like the other boys, friends and family members began to distance themselves from Michel's immediate family. Michel would grow extraordinarily angry and impossible to manage, breaking things in the family home. When he was sent away to various mental institutions, he'd be beaten. One day, he ran away from one institution and walked 30 kilometers back home.
Then came the L'Arche community of Val Fleuri. It took years, decades, but Michel's violent fits of anger have largely subsided, we learn. He has found a home now.
Life is a great mystery, yes, but a painful mystery, Michel tells us in Summer in the Forest. A mystery of suffering. A joyful mystery. A glorious mystery.
Vanier says as much in the film. "Love is not a utopia," he tells us. "It's a hope where we can bring people together."
I had a chance to speak to Wright recently, and he says that he experienced the countercultural charm of L'Arche when he first visited its London branch.
"I went in, and [I] didn't know quite why I was there or what I would feel," he says. "And then as soon as I spend the morning there I started realizing that this was the first place I've been to for many, many years where I felt I wasn't pretending. It was a sort of coming home. It was a place where instead of worrying about projecting a sort of professional identity or being impressive, I was in a place where all that counted was my ability to relate to someone else, and someone else's ability to relate to me. And I suppose I kind of fell in love with that, really."
That love comes across in the film. But Wright understands the fear that many people feel when they encounter people with disabilities, too. Wright admits that the first seed of Summer in the Forest was planted when he was just three or four years old. He had an aunt whom his family considered "simple." "When she came over to pick me up, I think I was — no, I know I was — frightened of her. And I've always thought about that fear and what it was about."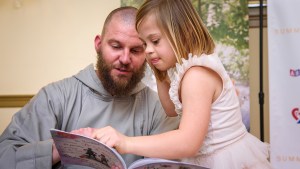 Read more:
EXCLUSIVE: Film about Jean Vanier premieres in NYC
Wright believes that fear of people who seem different than us is universal. Or, Wright suggests, it's because we see something in another that we don't want to see in ourselves. Few are immune to this. In the documentary, Vanier, who began L'Arche back in 1964 and still lives in its founding community of Val Fleuri, felt it himself.
"I felt scared with 30 men there, many of them disturbed," Vanier recalls in the film. "There was rarely a day when a window [wasn't] broken or God knows what. It was really difficult for me. I had to fight my way through life. It took a long time for the Val Fleuri to become a place of peace."
When Wright first met Vanier, he says he was "enormously impressed," just like everyone is when they talk with the man. But the experience of seeing him in his natural element — in this place that seems to run counter to all the world's mechanizations and expectations — was a bit overwhelming.
"Of course I've read Jean Vanier's books … and all sorts of things, but nothing quite prepares you for a sort of encounter where you have to completely drop your guard. And sort of start to be a human being again."
Wright continues: "Jean Vanier offers an incredible experience. He doesn't offer, in strict rational terms, a sort of answer. He offers himself, really. He offers his friends."
And in so doing, L'Arche offers a life-altering shift — one from a "world of power," as Wright says, where we're all in competition and always being hyper-critical of our own successes and failures, to a world of acknowledged weakness. Not just theirs, but ours. "What you discover is kind of the joy of being human. That it's not about being the best. It's about the quality of your relationships.
"A lot of people [talk about L'Arche] as a world turned upside-down," Wright continues. "There's a kind of inversion of the usual power structure, you know. What I want to reflect in Summer in the Forest is this incredible beauty, this extreme confidence, this sense of hope. This isn't a place that's upside-down. It's actually a place that really, really works."
While each L'Arche community is autonomous in choosing its spiritual grounding — some communities might be predominantly Muslim or Buddhist or have no religious underpinnings at all — Vanier is a devout Catholic. And you can hear echoes of the Scriptures in his words. "The weak and the foolish have been chosen to confound the wise and the powerful," he says. "Somewhere the weak lead us to reality whereas the so-called wise and powerful lead us to ideologies."
For Wright, the experience of filming Summer in the Forest was a profound one. "It changed my life," he says.
Summer in the Forest forces us to acknowledge that those we sometimes view as inferior or imperfect may have a deeper understanding of what it means to be God's humble creatures than the rest of us. And in their struggles and suffering, we see grace and power.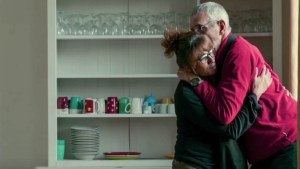 Read more:
L'Arche founder Jean Vanier shows a path to love in 'Summer in the Forest'