Blessed Alexandrina Maria da Costa received the grace of desiring to suffer with Jesus.
Alexandrina Maria da Costa was born in Balazar, Portugal, in 1904. Her father abandoned his family when she was very young, leaving his wife and two daughters, Deolinda and Alexandrina, destitute. Consequently, Alexandrina, who had only attended school for a mere 18 months, was forced to go to work. The young girl had unusual strength and was able to work long hours doing heavy farm work. She was all of 9 years old when she began working in the fields.
Alexandrina came down with a severe infection when she was 12, bringing her very close to death. The effects of the illness left their mark, and the young girl began to live with chronic pain. Despite the constant hurting, she continued working in the fields. When she became a teenager, she began to work as a seamstress alongside her sister.
Things changed quickly for Alexandrina. It was Holy Saturday in 1918, and Satan was doing his best to destroy Holy Week for as many people as he could. Alexandrina, Deolinda, and an apprentice seamstress were working together when three men broke into the house. They were determined to sexually violate the three young women. Alexandrina, staring into the faces of evil, refused to be accosted. She managed to jump from a window. The distance down was almost 14 feet.
Alexandrina's injuries from the jump were severe. She was paralyzed, and doctors described her condition as irreversible. They also said she would continue to deteriorate. However, Alexandrina, filled with faith, still managed to drag herself to church. Although hunched over from her injuries, she would remain in prayer for hours. Her condition continued to worsen, and she ultimately became immobile. By the age of 21, she was permanently bedridden and paralyzed.
Alexandrina had a great devotion to the Blessed Mother and prayed over and over for a miraculous cure. That was not to be, but God did answer her prayers, albeit in another way.
Slowly but surely Alexandrina began to understand that her suffering was an actual vocation and that she had been called to be a "victim" for Jesus. She said, "Our Lady has given me an even greater grace: first, abandonment; then, complete conformity to God's will; finally, the thirst for suffering."
God poured down His graces on Alexandrina, and the young paralyzed woman began to long for a life of union with Jesus. She now understood that to do this she would bear her debilitating condition for love of Him. This was the point where Alexandrina offered herself to God as a "victim soul."
Starting on October 3, 1938, and continuing through March 24, 1942, every Friday, Alexandrina would literally "live" the three-hour passion of Jesus. Her paralysis would seem to leave her, and she would relive the Stations of the Cross experiencing overwhelming physical and spiritual pain.
Living on the Eucharist
The following is from Pope St. John Paul II's homily at her beatification: "On 27 March 1942, a new phase began for Alexandrina which would continue for 13 years and seven months until her death. She received no nourishment of any kind except the Holy Eucharist, at one point weighing as few as 33 kilos (approximately 73 pounds). …Jesus himself spoke to her one day: 'You will very rarely receive consolation … I want that while your heart is filled with suffering, on your lips there is a smile.'"
Alexandrina, no matter the intensity of her pain, always had a ready smile for anyone who came to see her.
In 1944, Alexandrina became a member of Don Bosco's Association of Salesian Cooperators. She joined so she could offer her sufferings for the sanctification of youth. Alexandrina died on October 13, 1955. She was 51 years old.
On April 25, 2004, she was declared Blessed by Pope John Paul II who stated that "her secret to holiness was love for Christ."
Blessed Alexandrina Maria da Costa, please pray for us.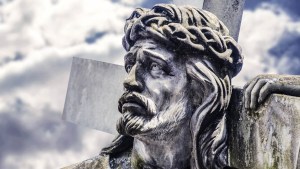 Read more:
Is there such a thing as "suffering well"?