Let's teach children patterns of thought and behavior that will serve them all of their lives.
Optimistic people see opportunities and solutions in problems; pessimists see problems in every solution. Everything depends on our baseline attitude.
There's nothing like surrounding yourself with optimistic people who are joyful and communicative, the type of friends who know how to make you laugh even in the midst of the deepest pain.
But how can you know if you're an optimist or a pessimist? Just observe the attitudes, behavior, and reactions you have in your daily life.
You usually see the positive or negative side of events or situations.
You feel like a victim of life: no one loves me, everyone treats me badly, they are always against me. Or, on the contrary, you are responsible for yourself and your actions.
Wrinkles on your brow. Optimists tend to have horizontal lines, while pessimists tend to have vertical ones.
You look at what you're missing instead of being thankful for what you have or what you've achieved.
You have confidence in yourself, or you lack security.
You give up easily or you have an enormous capacity for resilience and perseverance.
Both being an optimist and being a pessimist are patterns or behaviors that are learned and inherited, both by genes and by our experiences.
That is, they are customs that become habits we learn starting in childhood, and that we in turn pass on to our kids.
Of course, the ideal is to have learned to be an optimist, but if our own mom was always complaining, or if our dad was constantly stressed and overwhelmed, we'll have a hard time being positive. And the sad and even dangerous part is that this is the behavior pattern that we will imitate and pass on.
So, parents, how can we help our kids be more optimistic?
Let's be models to follow. We can teach optimism with our joyful and confident attitude, with positive words, with encouraging phrases. Let's act like optimists. And even if we're crying inside, let's show that we can live with hope. "Yes, my son, I have a problem at work, but I'm working on a solution. And you'll see how soon it will be fixed. Everything is going to work out fine."
Let's teach our kids to find the positive side in things, the silver lining. Everything, absolutely everything has a bright side, and it's up to our attitude to be able to discover it.
Let's teach our kids to seek and find solutions. When they come to us with a problem, difficulty, or setback, of course we don't want to see them suffer, and the easiest thing is to fix it for them. That doesn't help. We need to channel them, teach them to think, and help them use their freedom in an intelligent and responsible way. Let them solve their problems and take responsibility for their actions and decisions.
Let's teach our kids to seek and find their strengths, to make the most of them, and above all, to put them at the service of others. Let them know that we all have weaknesses, but that our strengths are greater. We are not all good at everything. Each of us has very particular skills and talents that we should discover and enrich.
Let's congratulate our kids, but only when they deserve it and it's worthwhile. Sometimes we praise them too easily for every single thing, and our praise begins to lose its value to them.
Let's take care of the way we correct them. No pejorative words that would insult them or make them feel worthless. For example, if your kid fails an exam, instead of telling him he's "useless" or "stupid and good for nothing," let's focus on encouraging phrases that are still truthful: "My son, you failed an exam and that's showing us that you have an opportunity to improve in this subject. I'm here to help you overcome it."
An optimistic — positive — attitude will be the main ingredient to embrace your life to the full and adapt to any change. Let's raise happy, optimistic kids because they'll live a happier life, get sick less, and have healthy and lasting relationships.
This article was originally published in the Spanish edition of Aleteia and has been translated and/or adapted here for English speaking readers.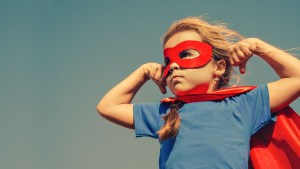 Read more:
Raising kids to be independent while keeping them close