Pope Francis has a message to make you think again about this "little sin."
You can get Aleteia inspiration and news in your inbox. Our specially curated newsletter is sent each morning. The best part? It's free.
Sign up here
Gossiping … it's one of those sneaky little vices that pushes into the grey areas of our conscience. It can thwart our relationships before we even know what happened. We know we shouldn't do it, but it's just a little thing … right?
Well, Pope Francis doesn't think so. In fact, he called gossip "one of the ugliest things in Christian communities." There are few things that undermine any community's integrity quicker than gossip; it violates trust and spoils otherwise edifying relationships faster than word gets around.
"Do you know that gossiping is terrorism?" the pope asked. "Yes, because a gossip does the same thing as a terrorist: he approaches, talks to one, throws the gossip bomb, destroys, and leaves quietly."
You can watch the full video clip below.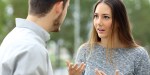 Read more:
Is it gossip to share my friend's problems with my spouse?