I do -- but only for good (and wrong) reasons.
Do you miss Lent? I do. And I say not just because I'm a dark, brooding, melancholic Irishman with an apocalyptic imagination (although I'm sure that's a contributing factor). I say that I miss Lent because it's more obviously plausible and credible than Easter. One doesn't have to look far for examples of sin, agony, and death. One doesn't have to strain the imagination to find Christ suffering in one's neighbor or in oneself.
It's harder to find examples of enduring victory, and it's harder to talk about the defeat of sin and death when we see sin and death around us and within us. So, from a certain point of view, Lent, even with its vigils, fasts, and penances, is easier than Easter.
I think Lent may be easier than Easter insofar as grief and regret can come to us more effortlessly and more lastingly than joy—joy, that hallmark of Easter. That may not be the fault of joy, but rather the fault of our misunderstanding of joy. We tend to think of joy as an intense emotional giddiness—as bright and as durable as the flashes of fireworks. Even if such joy and its causes were readily available, they couldn't last long. In other words, on this view, Easter would be a lot more work, you wouldn't be sure if you got it right, and, even if you did get it right, the victory wouldn't last.
But … are we not told that, "We are an Easter people and 'Alleluia' is our song!?" So … what do we do about the "problem" of Easter?
The problem isn't with Easter; the problem is with our misunderstanding of joy. The Medieval Scholastics spoke of joy as "delight in the presence of the beloved." Nothing about giddiness, or prolonged emotional fervor—just delight in the presence of the beloved. Who is our beloved? The most succinct answer comes from St. Augustine: "You have made us for yourself, O Lord—and our hearts are restless until they rest in thee!"


Read more:
Francis: Christians called to communicate resurrection's joy to all


What does it mean to say that God is our beloved? It is to say that God is all the fulfillment we are made for. Our intellect is made to know what is true; our will is made to love what is good; our heart is made to enjoy what is beautiful. And our soul is spiritual, not material—that is to say, our soul is open to the infinite, not limited to time and space. We are meant to know not just what is true, but Truth itself; we are meant to love not just what is good but Goodness itself; we are meant to enjoy not just what is beautiful but Beauty itself.
God is our satisfaction. The roots of satisfaction is the Latin, satis facere—to be made full. "All well and good," you might say. "But isn't our delight in God as our beloved meant for Heaven and not for this life?" That's right—almost. Yes, our union with God in this life must be incomplete. Yet God our beloved, even now, is always present to us.
The omnipresence of God—God present always and everywhere—means that God our beloved enables us, as St. Paul exhorts us, to "rejoice always." The living God, our always present and always available satisfaction of our whole human nature, is the cause of our joy. Because of who God is, and who we are to God, the Easter joy we speak of is for us effortless—that is, our joy depends on simply acknowledging the truth of God's self-revelation, and our heart's embracing what God has shown us of himself.
Do I really miss Lent? Well … sort of … but only to the degree that my human weakness holds too loosely upon the gift of Christian identity, dignity, and destiny.
What we are all called to, however, is a grateful and lively cultivation of the truth of the victory that the Christ of God achieved by his work, suffering, death and resurrection. God is with us; God is always with us; God is everywhere with us; God is perfectly offering joy in this life and completion in the next.
What we do in Lent is become aware in a more complete and honest way our need for the God we have rejected and even murdered by our sin. What we do in Easter is acknowledge that our sin has not defeated God—God who in his Christ offers us his victory and his glory. What we are called to do between now and eternity is to live gratefully and rightly the gifts and promises of God who is unfailingly faithful.
When I write next, I will talk about how to be a good steward of the amazing graces offered to us by virtue of the gifts and glories of Easter. Until then, let's keep each other in prayer.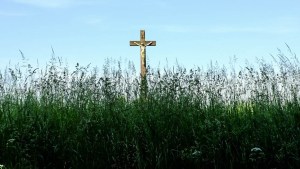 Read more:
4 Joys only Jesus brings