Pope reminds the faithful that the Catholic celebration of the feast lasts for the whole week
Pope Francis today led the crowds assembled for the general audience in a rousing "Happy Easter" for Pope Emeritus Benedict XVI, who was watching the audience on television.
The Holy Father began the audience noting all the Easter flowers: "Flowers speak of joy and good cheer," he said, explaining that in "certain places Easter is also known as Easter in Bloom because the Risen Christ flowers: He is the new flower; our justification blooms; the holiness of the Church blooms. So, many flowers: it is our joy."
The pope reminded the faithful that for us Catholics, Easter is more than a day. As with other great occasions in the Church, and most especially with Easter, we celebrate the feast for an entire "octave" — eight days. The Easter season then goes on to last a full 50 days.
"All week we celebrate Easter, all week," Francis said. "And for this reason we give, once again, all of us, the wish of a 'Happy Easter.' Let us say it together: 'Happy Easter,' all of us [the crowd answers: "Happy Easter!"].
"I would also like us to say Happy Easter – because he was bishop of Rome – to the beloved Pope Benedict, who is watching us on television. To Pope Benedict, we all wish you a Happy Easter [they say: "Happy Easter"!]. And an applause!"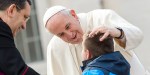 Read more:
Pope lauds 2 simple Easter traditions, and asks if Easter is more important than Christmas