10th-century mystic St. Gregory of Narek a doctor of the Church, and important figure for Armenia.
Need an idea for Lenten almsgiving?
Help us spread faith on the internet. Would you consider donating just $10, so we can continue creating free, uplifting content?
Make a Lenten donation here
The statue of St. Gregory of Narek inaugurated in the Vatican Gardens is a symbol of the "ecumenism of blood," the ambassador of Armenia to the Holy See, Mikayel Minassyan, told Catholic News Agency.
At the inauguration of the statue on April 5, the pontiff was accompanied by Armenian President Serzh Sargsian, by Karekin II, Catholicos of all Armenians, by Aram I, Catholicos of Cilicia in audience at the Vatican—both Orthodox—and by the Armenian Catholic Patriarch, Krikor Bedros XX Ghabroyan.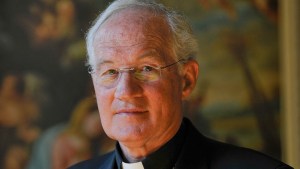 Read more:
Catholic, Orthodox, Protestant: All are Christians and all are being martyred
This is a "very important" gesture for the Armenian people, "the first Christian nation," but also for all Christians in the Middle East, said Mikayel Minassyan.
Saint Gregory of Narek is, he said, "the author of the spiritual constitution" of Armenia.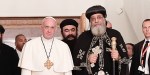 Read more:
From one pope to another: "Ecumenism of blood" will strengthen our resolve to be one


A mystic of the 10th century, proclaimed a saint by both the Armenian Church (Orthodox and autocephalous) and the Catholic Church, he is also one of the doctors of the Church of an "ecumenical" character, the diplomat said.
Pope Francis conferred the title of 36th Doctor of the Church on Saint Gregory in 2015.
The saint's feast day is celebrated October 9 in the Armenian Church, and February 27 in the Latin Church.
Saint Gregory of Narek is thus a "bridge between two worlds": East and West, Catholic and Armenian, continued the ambassador. He is also the symbol of Armenian culture and thought, which continues to exist despite its difficult history of "our blood … shed for the Christian faith."
The monastery of Narek, where St. Gregory lived, was destroyed during the first genocide of the 20th century, as was his tomb.
Read more:
Secret archives show Vatican tried to stop Armenian Genocide
This genocide killed between 600,000 and 1.5 million Armenians of the Ottoman Empire, principally between April 1915 and July 1916 but continuing even until 1923.


Read more:
Pope's message in Armenia: Turning memory into reconciliation