The atheist regime appears to be cracking down on a growing underground Christian movement
In the latest evidence of a crackdown on Christianity in China, the Communist country's government has banned the sale of Bibles by online retailers.
The new ban was announced over the weekend, and according to a New York Times report, by Thursday it was not possible to find a Bible for sale on leading Chinese Internet retailers.
Before the ban on online sales, the government had restricted access to the Bible by only allowing it to be sold through church bookstores. Religious texts from other religions including Buddhism, Taoism and Islam have no such restrictions and are sold in stores and online.
The move comes amidst a climate of increasing government pressure on both Christianity and Islam, according to the New York Times report.
From 2014 to 2016, more than 1,500 crosses were removed from churches in one Chinese province, and the government has taken measures to curtail "excessive public displays of the Islamic faith" such as wearing long beards and headscarves.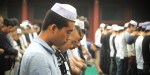 Read more:
Muslims in China say they've been told to hand over Qurans or face "harsh punishment"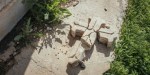 Read more:
Chinese authorities reportedly raid church, steal crosses, and replace them with smaller ones


A recent report by the Council of Foreign Relations, found that China is on track to have the world's largest Christian population. The report estimates that, due to a burgeoning underground church movement, there are now anywhere form 58 million to 115 million Chinese Protestants, and 10 to 12 million Chinese Catholics.
The Vatican and Beijing, which haven't had formal diplomatic ties since 1951, are reportedly in negotiations over the status of the Catholic Church in China. The head of the Holy See Press office issued a statement at the end of March saying that media reports that the Vatican is close to signing an agreement with the Chinese goverment are false.