And no, a great physique isn't on the list.
Of course, a handsome man is going to have a distinct advantage at the beginning. But very often, a woman can begin to fall in love with a man thanks to something quite simple: a small gesture, something that deeply touches her heart. And that gesture — this has happened millions of times — ends up making a man a winner, taking the prize from a man who was merely handsome.
A look at the whole
Whoever really wants to understand how women act and what moves us to make decisions in love should bear in mind that our brain establishes multiple connections between a number of variables: physical attractiveness is only one factor among many.
This means that our decision isn't based only on physical appearance, but rather on a whole set of behaviors we observe in a man.
So, for men, it might be worth noting what women value, so as to be attentive the next time you're hoping to win a woman's heart. Below is a list of things guys may wish to consider if they really care about a woman — we do really pay attention to them!
Women are attracted to a man if:
He knows how to listen.
He respects you and makes others respect you.
He knows to dress elegantly on special occasions.
He smells good.
He wants to dance with you (not to be confused with the one who wants to show off as if he were Dancing With The Stars).
He uses proper grammar. (A poorly written text message can suddenly become his death sentence.)
He accepts your friends.
He is interested in participating with you in volunteer projects.
He can be a good "babysitter." If he is to be a good father, this trait matters. How would he react if you showed up with your little brother?
He knows how to cook. We are not talking about sophisticated dishes or winning competitions at restaurants over who has greater knowledge of wines, but simply knowing how to cook, that's all.


He is capable of showing his own woundedness. He is humble enough to become vulnerable.
He admires you and verbalizes it.
He makes you laugh.


He is attentive to details — to the small gestures of love that matter.
He values what you do, what you are studying, and the projects you are involved in.
He has various cultural interests.
He is patient with the elderly.


He asks you about your dreams.
He remembers important dates.
He gives priority to your wants and needs.
He can be both spontaneous and responsible.
No man or woman is perfect, but paying attention to the characteristics on this list will give you an advantage if you want to win a woman's heart. And we women will try to do the same; we know that a pretty face gets men's attention, but that when it comes to a lifetime relationship, real men want to be with a real woman, not a Barbie doll. A solid relationship has more to do with a connection of hearts, minds, and ideals, than with good physiques.
This article was originally published in the Spanish edition of Aleteia, and has been translated and adapted here for English-speaking readers by Martha Fernández-Sardina.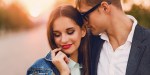 Read more:
Why "Play hard to get" is terrible dating advice for women