Unlike everyone else, one woman decided to stop and ask the question, "Are you all right?"
All kinds of things stop us from playing the Good Samaritan. I don't have time … It's none of my business … I'm sure someone else will come along … And, to be fair, most of the time we are in a rush and we genuinely don't want to intrude on another person's life, but, every now and then, it pays to ask the obvious question: Are you okay?
When Celeste Ng drove past an elderly woman sitting alone on the sidewalk, she decided to do just that, and she didn't regret it.
I drove around the block and came back and asked if she was okay. She told me she had gone for a walk and realized, too late, she couldn't walk that far. She'd sat down to rest and then couldn't stand up on her own again.

— Celeste Ng (@pronounced_ing) April 3, 2018
I had to put her cane in the back. I said "I promise I'll give it back to you!" She said, "Well, I trust you, and plus I'm not going anywhere without it!"

— Celeste Ng (@pronounced_ing) April 3, 2018
I guess the moral of the story is: If you're able, always take a minute and check if someone needs help.

— Celeste Ng (@pronounced_ing) April 3, 2018
Especially when it comes to the elderly and vulnerable, it's the responsibility of every person to encourage kindness and safety for others and ourselves. There is rarely regret found in treating others with generosity and charity.
Editor's note: Celeste Ng is a New York Times best-selling author. Her first novel, Everything I Never Told You, was named Amazon's Book of the Year in 2014. Her current novel, Little Fires Everywhere, is being made into a miniseries for Hulu.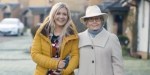 Read more:
Watch how this 96-year-old woman is helping to end loneliness among the elderly (VIDEO)