You won't believe their Broadway caliber talent ... and watch how the baby joins in at the end!
When the LeBaron family got together on Easter Sunday and filmed themselves singing "One Day More" from Les Miserables, they had no idea the video would become such an internet sensation.
"Music has been a unifying thing in our family," Jayson LeBaron told KUTV. "We've all grown up singing together and we all married musically talented people." He explained that his father is a pianist and his mom has served as his and his siblings' music director. "We all got involved with musical theater and did a lot of shows in high school and college."
And it totally shows. Their singing experience is impressively evident in the video, which was posted on Facebook by Jayson's brother Jordan, and has received 5.2 million views and counting.
"Anyone looking to do Les Miserables for their next show?" Jordan captioned the video. "Better yet … anyone looking for an entire cast? This is 'One Day More,' he writes, before going on to credit his siblings, siblings-in-law and wife for their outstanding voices.
The three-and-a-half-minute recording is worth every second, showing the charming unity of the family's multiple generations, complete with adorably squirmy grandchildren. Take a look!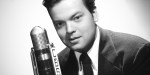 Read more:
Orson Welles' 1937 recording of 'Les Miserables' is what radio should be