Kids miss out on a lot when everything they do is segregated by age.
I was homeschooled myself, and since I'm tossing around the idea of homeschooling my own children, I'm starting to hear that familiar objection again: How on earth do homeschoolers learn social skills if they're never around other kids? I was always around other kids — my own siblings, and lots and lots of friends, and their siblings, too. But that answer doesn't seem to satisfy people, since what they really want to know is, "How do you learn social skills if you're not around kids your own age?"
It's the norm, these days, for children to be separated into classrooms (and daycares, and extracurriculars) with only their peers, whose maturity more or less matches their own. Of course, that has its advantages — especially for the adult who has to wrangle them — but historically speaking, this type of environment is a new development. And big or small, kids miss out on a lot when everything they do is divided up by age and grade level.
It's not hard to see what younger kids get from playing with older friends (everybody knows they naturally gravitate towards the "big kids" anyway). Developmental psychologist Peter Grey, in "The Special Value of Children's Age-Mixed Play," describes the concept of "scaffolding." By being around kids whose skill level, maturity, and intelligence is just a step higher than their own, children see new possibilities, and they're encouraged — but not forced — to leave their comfort zone. They're able to grow at their own pace, but at the same time, be exposed to new ideas they may not have considered.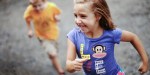 Read more:
Doctors are writing prescriptions … for kids to play outside


Gray recalls seeing kids on a playground: "I watched two ten-year-old girls easily and nonchalantly perform the trick of walking upright down the slide. A six-year-old girl nearby watched them more intently than I, and then she climbed the ladder and started gingerly to walk down the slide herself. This was clearly a challenge for the little girl. She walked with knees bent and hands down, ready to grab the rails if she lost balance. […She] beamed with pride when she made it to the bottom."
You can teach a kid anything, and they may or may not remember it. But, Grey reminds us, "The single most important form of learning is observation." When a child sees something impressive, and then chooses to try it out for herself, that's when it really means something. She's won the skill, earned the knowledge. It really belongs to her. The opportunity to be around older children opens up a whole world to aspire to, but unlike skills that are deliberately taught, these skills that she learns by observing and deliberately choosing to imitate, won't be forgotten.
It's not just young ones who benefit from being around big kids, either. The other day, my son and I were wandering around a museum, when he got it into his head that this 8-year-old we kept running into was his friend. He'd get right up in her face and start talking, but this girl had clearly never spent time around little kids before. She wasn't hostile, but she couldn't figure out how to react to him, and opted to act as though he wasn't there. After a while, my son came running to us, in frustration. "Mama! I just really want her face to look at my face!"
I can hardly fault the girl, but I understood my son's frustration, too. It hurts to be ignored. Being around kids younger than yourself teaches empathy and patience like nothing else can. You have to remember that they don't know as much as you, and can't do as much. You have to constantly try to see the world through their eyes. You have to remember to speak in a way that preserves your meaning, but that's simple enough for them to understand. You learn to compromise. And you remember what life was like when you were that small — it reminds you of how far you've come, and of your capacity to grow.
For older and younger kids, playing in a setting where there's a broader spectrum of ages kills the spirit of competitiveness. After all, there's no glory in shooting more baskets than a kid five years younger than you. And a younger child knows he doesn't have a hope of beating a much older friend. That frees them up to just play, each at their own pace, and enjoy themselves, without having anything to prove. Whether they're in school or not, it's a real gift to your own kids, and to the kids they're with, not to keep things so strictly age-segregated.