Calls for "great respect for life"
Need an idea for Lenten almsgiving?
Help us spread faith on the internet. Would you consider donating just $10, so we can continue creating free, uplifting content?
Make a Lenten donation here
Pope Francis today made an appeal for a "great respect for life" as he spoke about two people in complex medical situations, one in France and one in England.
After leading the midday Regina Caeli, the Holy Father asked for prayer for Vincent Lambert in France and for little Alfie Evans in England, as well as so many others "who live, sometimes for a long period, in a state of grave illness, medically assisted for their basic needs."
"These situations are delicate and very sorrowful and complex," he said. "Let us pray so that each patient is respected in his dignity and given treatment according to his condition, in agreement with his family members, doctors, and medical workers, with great respect for life."
Alfie Evans' parents are set to ask courts on Monday to allow them to take their son, who is not yet 2 years old, to the Vatican-owned Bambino Gesù children's hospital in Rome for treatment.
The Holy Father has already sent a tweet regarding Alfie, and a leading UK bioethics center has made a statement on the case.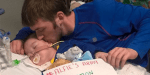 Read more:
Pope speaks to case of little Alfie Evans with tweet assuring prayer


As far as Lambert, he is a 42-year-old man who has been severely disabled for 10 years, following a car accident in 2008 that left him quadriplegic.
Vatican News reported that
his parents, with the concurrence of some doctors, say he is not in a coma, is able to breathe unassisted, and his internal organs are working normally. Doctors and officials at Sebastopol Hospital in Reims, however, want to remove "ordinary means of life support," namely, food and water [on April 19]. Doing so would bring about Lambert's death, and would be considered passive euthanasia.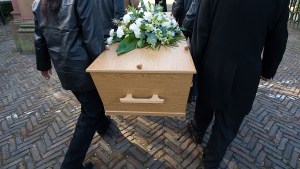 Read more:
Does the Church expect us to suffer instead of "dying with dignity"?
Also on Sunday, Archbishop Vincenzo Paglia, president of the Pontifical Academy for Life, issued a statement about Alfie Evans' situation:
"I strongly hope a dialogue and collaboration can be reopened between the parents, understandably anguished by pain, and the authorities of the hospital where Alfie has been treated up to this point, so they can search together for Alfie's integral well-being, and care for his life won't be reduced to a legal battle. "Alfie must never be abandoned, Alfie must be loved, like his parents, all the way to the end."