Exposure to books opens more doors for kids than parents realize.
The library is an oasis of stillness and silence. The noise of the streets filtering through from outside only emphasizes that this is a quiet place, a special place, one that is particularly important for children.
Reading books is developmentally important for children as they expand their vocabulary, learn empathy, and develop their imaginations. Reading is also an indicator of academic success in general. For instance, English teacher Lindsay Racine recently gave a TED talk about how to help children fall in love with reading, and one of the statistics she mentions is compelling. She says, "A child that reads twenty minutes a day scores on the average in the 90th percentile on standardized tests, while a student that reads one minute a day scores in the 10th percentile." These benefits continue to accrue to adult readers, who tend to be more creative, live longer, and be successful at business.
The head-start towards a lifetime of achievement is only the tip of the iceberg, though, when it comes to what makes libraries so wonderful. When I think back to the library of my childhood, I remember card catalogs of index cards in tall, beat-up cabinets with tiny drawers, rows and rows of shelves with woody-scented books, and little reading nooks in random corners furnished with bean bag chairs. Our mother would take my brothers and me each week and set us loose totally unsupervised for what seemed like hours — it probably wasn't that long, but the imagination tends to overestimate memories — all the same, the memory of being a child in the library is firmly planted in my mind because it was a formative experience.
It didn't matter what titles we checked out, just so long as we got some books. Each week, my choices varied wildly. I read widely in basketball player sports biographies, Encyclopedia Brown, and Black Stallion sequels. Most important for a young, sports obsessed boy, though, was rushing in each week to see if a new Sports Illustrated was on the shelf yet so I could look at it before my brothers did. The check-out process was a moment of rare maturity as I pulled out my very own library card, with my own name on it, and claimed responsibility for the literary treasures I would have in my temporary possession.


Read more:
Research shows that reading one kind of book can extend your life


I'm not alone in my love for libraries. Author Neil Gaiman recently said in a lecture for the Reading Agency, "I had the kind of parents who could be persuaded to drop me off in the library on their way to work in summer holidays, and the kind of librarians who did not mind a small, unaccompanied boy heading back into the children's library every morning and working his way through the card catalogue, looking for books with ghosts or magic or rockets in them, looking for vampires or detectives or witches or wonders."
There's something about the physical space inside a library that an online catalog cannot provide. It's much more than a room full of books. Or, that's precisely what it is but it means so much more than you think until you're there. There's spontaneity to choosing the books when they're all around. You see them, and you grab one because the cover is enticing, or because it's by an author you've read before and enjoyed, or it's on the display of recommended books the librarian has set up.
Libraries are an exercise in the joy of possibility. You can read anything, be anything, imagine anything. This is why Gaiman says, "Libraries are about freedom. Freedom to read, freedom of ideas, freedom of communication … If you perceive a library as a shelf of books, it may seem antiquated or outdated in a world in which most, but not all, books in print exist digitally. But that is to miss the point fundamentally."
If you're a parent tired of forcing your child to read, try something crazy. Take your child to the library. Confiscate all electronic devices and set him free to wander among the books. Don't force him to read anything in specific and don't worry if the book he ends up reading doesn't seem to measure up to Dickens. As Racine points out, "Children need to be able to choose what they read." Sure, I spent years reading sports star biographies, but eventually I fell in love with reading to the extent that I voluntarily read Moby Dick, War and Peace, and Tale of Two Cities. My world is much bigger as a result of the time I was given to roam in the library. This is the same gift I hope to give to my children.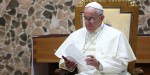 Read more:
10 of Pope Francis' favorite books