We can't change our bad habits until we start doing this one thing.
Last night I sat down to write a post and stared at the computer screen for five full minutes without even putting my hands on the keys. I was tired. It had been a long day, and the only thing I wanted to do was sleep — or, okay, binge-watch Flash and then go to sleep. I did not want to do anything productive, responsible, or remotely adult.
So I made a deal with myself. "Self," I said, "you don't have to write the whole post. You just have to write the intro to figure out where you're going with it, and then you can close your computer, watch Flash, and go to bed."
Reluctantly I dragged my hands to the keyboard, pulled up a blank page, and started to write. It was slow at first, like getting a child to do homework when they want to play outside. I typed out one grudging word at a time, slowly making my way through the first paragraph. But by that point my brain was warming up, making connections, and spitting ideas at me. So I typed faster and less grudgingly, relieved that the process was easing. Before I knew it I had finished the post … and let me tell you, I was so dang proud of myself I did an internal self-five. Then an external one.
I didn't always approach work like that. I used to procrastinate until the last second and then frantically do what was absolutely necessary while mentally punishing myself for being such a failure. Then I would resolve to change my habits immediately and approach tasks like an adult. And then next time a task rolled around, I'd repeat the cycle.


Read more:
6 Strategies to stop procrastinating and get it done


This started changing about the time I started running with my friend Monica. It was the first time I had committed to exercising with someone else, and the knowledge that she was expecting me was the only thing that got me out of bed and out the door in the morning. I wouldn't even think about how much I didn't want to run — I just thought about getting dressed in time to meet her at my mailbox, and the runs were infinitely less painful because I had no time to dread them beforehand.
This is actually a psychological technique, although I didn't know it then. We all know how to change our habits. The New York Times puts it in terms of a three-part neurological loop: a cue, a routine, and a reward — and the real problem with procrastination is that it short-circuits this loop by preventing us from even getting to the cue.
But what if our problem isn't the cue-routine-reward loop, but our inability to even get to that cue because we procrastinate so much?

Tim Urban of the Wait But Why blog explored this idea a few years ago. His main idea was this: Instant gratification gets in the way of our doing the things we need to do. When we procrastinate, the negative feelings snowball until we're paralyzed, and only at the very last minute, when panic sets in and we're at the do-this-or-lose-my-job stage, do we perform the task.

The trick, Tim writes, is to begin with forgiving ourselves for screwing up. From there, we can break the things we have to do down into tiny, easily tackled mini-tasks; seek external support for our goals; minimize distractions; and aim for steady, incremental accomplishments instead of huge, goliath-size ones. ("Write the intro to your presentation" as opposed to "Write your presentation.")
Remember how I said I used to mentally punish myself for procrastination? Learning not to do that is the hardest yet most effective thing I've ever done. I'm still doing it, actually — I don't have to respond to my own self-lacerating thoughts aloud like I did at first, and my internal response to extreme self-criticism is slowly becoming reflexive. But it's taken me years to get to the point where I can trick my brain into starting a project by aiming for a goal far short of what I think I should be doing, and I've only gotten there because I've stopped beating myself up and started being kinder to myself.
I'm no psychologist, but I think the ability to forgive yourself and be gentle to yourself in your thoughts and deeds is the key to beating procrastination in particular and bad habits in general. We can't really change until we believe we're capable of it, and that means forgiving ourselves for failures and shortcomings so we have room to try again.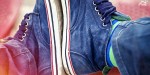 Read more:
How to beat procrastination … now