White-haired matriarch of political family was active promoter of literacy, other causes
Send us the names of your loved ones who are sick or suffering. The Aleteia prayer network of 550 monasteries will take them to prayer for the World Day of the Sick.
Click here to share your intentions
Barbara Pierce Bush, one of only two women ever to be both wife and mother of U.S. presidents, has died at the age of 92.
The former first lady died at her home in Houston Tuesday, April 17, two days after a family spokesman announced that her health was declining and she had opted against pursuing any further medical interventions.
She is survived by George H.W. Bush, her husband of 73 years and president from 1989-1993, and their son, George W. Bush, who served in that office from 2001-2009, as well as former Florida Gov. Jeb Bush, who made an unsuccessful bid for the White House in 2016.
Mrs. Bush suffered from congestive heart failure and chronic obstructive pulmonary disease. On Good Friday, she was admitted to Houston Methodist Hospital suffering from shortness of breath.
The white-haired matriarch of a powerful political family, Barbara Bush was preceded in U.S. history by only one other first lady, Abigail Adams, who had both a husband, John Adams, and a son, John Quincy Adams, who were elected to the nation's highest office.
President Donald J. Trump and First Lady Melania Trump tweeted Tuesday evening that they were joining the nation in "celebrating the life of Barbara Bush."
.@FLOTUS Melania and I join the Nation in celebrating the life of Barbara Bush: pic.twitter.com/4OW72iddQx

— Donald J. Trump (@realDonaldTrump) April 18, 2018
Barbara and George H.W. Bush also had the longest presidential marriage in American history. They wed on January 6, 1945, and went on to have six children, including Neil, Marvin, Dorothy, and Robin, who died of leukemia when she was 3.
Born in New York City on June 8, 1925, to Pauline and Marvin Pierce (a descendant of U.S. President Franklin Pierce), Barbara Pierce grew up in the New York suburb of Rye, New York, and attended Ashley Hall boarding school in Charleston, South Carolina. She was only 16 when she met George Herbert Walker Bush, at a dance during Christmas vacation. Bush was a senior at Phillips Academy in Andover, Massachusetts, at the time, and the two became engaged a year and a half later.
While Bush was serving as a Navy bomber pilot in World War II, Barbara worked at a Lord & Taylor department store in Greenwich, Connecticut, and later at a nuts and bolts factory that provided supplies for the U.S. war effort. According to the website of the National First Ladies' Library, she made a cross-country train trip with the German nurse of her baby niece because the woman feared being assumed as a Nazi spy.
She attended Smith College, but when her fiancé returned on leave in January 1945, she dropped out and married him.
George Bush enrolled at Yale after the war, and his young wife worked at the campus store in New Haven until giving birth to her first child, George W., in July of 1946. After graduation, the young family set out for Texas, where George built a business in the oil industry and later turned to politics. As Bush was elected or appointed to various offices and positions over the next several decades, Mrs. Bush managed 29 moves of the family.
She first gained national prominence in 1964 during her husband's failed bid for a Senate seat from Texas. But he was elected to Congress two years later. By the early 1970s, she was already playing an active role in George's political career, advising him against accepting President Richard M. Nixon's offer to serve as chairman of the Republican National Committee, for example. The Watergate scandal was growing, and if Bush ended up being associated with a disgraced president, it would damage his prospects, she reasoned.
But he did accept Nixon's offer to head the RNC. Later, President Gerald R. Ford recognized Bush's party loyalty and appointed him Chief of the U.S. Liaison Office in the People's Republic of China. Barbara could now enjoy some time with her husband in the remote assignment, and the two enjoyed exploring Beijing in the way most residents got around—on bicycle.
When Bush was appointed to head the Central Intelligence Agency, however, she was unable to participate in any conversations with her husband about his top secret work. The National First Ladies' Library described her situation:
This sense of isolation, as well as a sudden perception that her life had less value than those of younger women who were now increasingly achieving their goals rather than helping their husband's achieve theirs led to a brief period when she suffered from depression. Although Barbara Bush later regretted that she did not seek professional help, she found understanding in her husband. She also determined to strike out more on her own, delivering speeches with a slide show about her life in China, and volunteering at a hospice, the Washington Home, where she undertook many humbling duties that served the dying, including bathing and feeding them, and cleaning.
While Bush had to keep secrets about his work, one thing that was no secret were Barbara Bush's positions on certain issues that were at odds with more conservative elements of the Republican Party. These came into the spotlight when Bush made his first run for the presidency, in 1980. While fully participating in his campaign, Mrs. Bush revealed her support for continuing the effort to have the Equal Rights Amendment ratified and her belief that the Supreme Court's Roe v. Wade decision was correct. (Later, in 1992, just before the convention that would nominate her husband for the second time, she opined that the issue of abortion should not be addressed in the Republican Party platform and that the practice is "a private matter.")
When Ronald W. Reagan won the 1988 nomination, he tapped Bush as his running mate. The team went on to win in November, giving Mrs. Bush a new platform to advance causes that were dear to her, but she avoided the abortion issue.
Family experiences contributed to her lifelong interest in reading and literacy issues, according to the First Ladies' Library. Her father, Marvin Pierce, was president of McCall Corporation, which published popular magazines such as Redbook. And early in Mrs. Bush's marriage, her son Neil was diagnosed with dyslexia. So as wife of the Vice President, she selected the promotion of literacy as her special cause. During the 1980s statistics showed that 35 million U.S. adults could not read above the eighth-grade level. Mrs. Bush unveiled billboards, visited Head Start classes, and participated in a variety of media programs to raise awareness of the basic need for every citizen to be able to read. She wrote a children's book called C. Fred's Story: A Dog's Life, in 1984, which raised $100,000 for Literacy Volunteers of America and Laubach Literacy Action.
At the 1988 Republican Convention, she became the first candidate's spouse since Eleanor Roosevelt to address the convention that nominated her husband, focusing on the candidate as a family man. According to the First Ladies' Library:
The Bush campaign made generous use of the large Bush clan, including television commercials that showed George and Barbara Bush with some of their twelve grandchildren. The message underscored an unspoken difference with the Reagans, whose family members were sometimes in discord with them. Also contrasting with Nancy Reagan was the image of Barbara Bush that only emphasized her domestic interests in gardening, family life and church. She herself became adept at drawing attention to unthreatening full head of white hair, matronly figure and disinterest in wearing designer clothing. She also avoided discussion of political issues and controversy throughout the campaign, claiming she did not know enough to discuss anything except to repeat and defend her husband's views. She would express her views on some issues, such as support of the death penalty for hardened criminals, if they concurred with those of the candidate. There has been ample evidence from those who interacted with her during the campaign, however, to suggest that she was actively involved in the practical political moves, responses and directives of the campaign strategy.
As First Lady, she became honorary chairman of the Barbara Bush Foundation for Family Literacy. In 1990, she published a second book, Millie's Book: As Dictated to Barbara Bush, which sold more than 300,000 copies in its first year and raised nearly $900,000 for her new foundation. She also launched Mrs. Bush's Story Time, a national radio program that stressed the importance of reading aloud to children.
In March 1989, Mrs. Bush's press office announced that she was being treated for Graves' disease, a disorder of excess thyroid hormone production.
In 1991, Mrs. Bush and other advocates celebrated the passage of the National Literacy Act, which created the National Institute for Literacy and permitted the use of libraries and other municipal property as evening literacy centers for adults.
"Focusing on the family is the best place to start to make this country more literate, and I still feel that being more literate will help us solve so many of the other problems facing our society," she wrote in Barbara Bush: A Memoir (1994).
Early experiences also played a part in Bush's attitude toward race in America, including her enrollment at Smith College—it was the first racially integrated school she attended—and later, as a young mother, driving her children across the country to her husband's family summer home in Kennebunkport, Maine. On that journey, she was accompanied by two African-American women and was appalled when they were not allowed to stay in hotels or motels or eat in restaurants in the South along with her and her children. According to the First Ladies' Library, Mrs. Bush refused to dine or sleep where the other women were not permitted.
Mrs. Bush also took an interest in the homeless, the AIDS crisis, the elderly, and school volunteer programs. She served as AmeriCares ambassador-at-large; a Mayo Clinic Foundation board member; and a supporter of organizations such as the Leukemia Society of America, the Ronald McDonald House, and the Boys & Girls Club of America.
According to Kate Andersen Brower, author of the forthcoming First in Line: Presidents, Vice Presidents and the Pursuit of Power, Mrs. Bush in 1989 visited Grandma's House, one of the first homes created to care for infants infected with HIV.
"She spent nearly an hour there and held babies infected with the HIV virus," Brower told CNN. "She wanted to dispel the myth that the disease could be caught simply through physical contact. 'You can hug and pick up AIDS babies and people who have the HIV virus' without hurting yourself, she said during the visit. 'There is a need for compassion,' she said as she cradled a baby.
"That one visit was more powerful than any number of speeches or public appearances. She understood that and I think her empathy will be a key part of her legacy," Brower opined.
Bush also wrote Reflections: Life After the White House (2004). That life continued to be as active as her health permitted, including actively campaigning for her son, Jeb, during the 2016 New Hampshire primary.
Mrs. Bush will lie in repose Friday at St. Martin's Episcopal Church in Houston for members of the public who want to pay their respects. A funeral service for the former first lady Bush is planned for Saturday at the church, which she and the former president attended. She will be laid to rest on grounds of the Bush Presidential Library at Texas A&M University in College Station.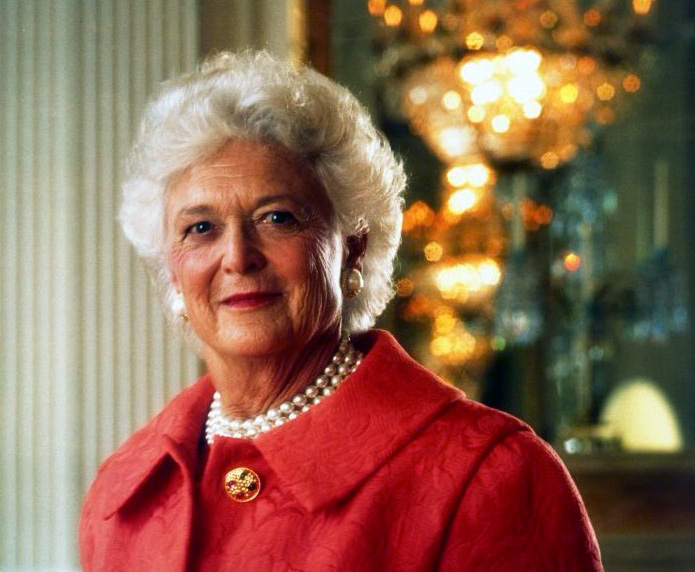 Launch the slideshow