A first-hand account of what made Christians counter-cultural in ancient Rome.
Popular Roman culture was diametrically opposed to Christianity. As the Romans made superstitious sacrifices to the gods, engaged in sumptuous pleasure feasts, and looked forward to the next slaughter of humans in the arena; Christians practiced charity, temperance and worship of a triune God.
Christians were weird, strange people the Romans could never understand.
This reality was clearly laid out in a first-hand account of Christian life in a manuscript referred to as the Epistle to Diognetus. It is a letter that seeks to defend the Christian faith, detailing the lives of the early Christians. The letter is generally dated to around the year 130 and is one of the oldest letters of this kind that has been preserved.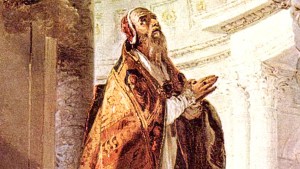 Read more:
The oldest Christian prayer outside of the Bible
The author of the letter first explains to the reader that Christians are to be found in every corner of society.
Christians are indistinguishable from other men either by nationality, language or customs. They do not inhabit separate cities of their own, or speak a strange dialect, or follow some outlandish way of life … With regard to dress, food and manner of life in general, they follow the customs of whatever city they happen to be living in, whether it is Greek or foreign.
In other words, Christians are everywhere and incorporate themselves into the culture they are living in. They don't look any different or sound any different.
Yet, the author explains that Christians are different in many ways. While they live within the world, they are not of the world.
And yet there is something extraordinary about their lives … Like others, they marry and have children, but they do not expose them. They share their meals, but not their wives. They live in the flesh, but they are not governed by the desires of the flesh. They pass their days upon earth, but they are citizens of heaven. Obedient to the laws, they yet live on a level that transcends the law. Christians love all men, but all men persecute them … They live in poverty, but enrich many; they are totally destitute, but possess an abundance of everything. They suffer dishonor, but that is their glory. They are defamed, but vindicated.
It was common practice for Romans to expose unwanted children (abandon them outside without shelter) and leave them to die. Christians, on the other hand, did not do that and would often save those children from death. For this reason the Romans accused them of child sacrifice as they couldn't understand why they kept on taking these unwanted children.
Furthermore, divorce and adultery were extremely common among Romans and so when Christians refused to do either, they placed themselves apart from almost everyone else in society.
Last of all, the author explains something that baffled the ancient Romans: love of enemies.
A blessing is their answer to abuse, deference their response to insult. For the good they do they receive the punishment of malefactors, but even then they, rejoice, as though receiving the gift of life … Christians love those who hate them just as the soul loves the body and all its members despite the body's hatred. It is by the soul, enclosed within the body, that the body is held together, and similarly, it is by the Christians, detained in the world as in a prison, that the world is held together.
Tertullian, a Christian writer during this same time period, similarity explained how Romans would look at Christians and say, "See how they love one another!"
Christians were a strange bunch, but their shining example of virtue radically changed the world they lived in.
Read more:
Three of the Oldest Images of Jesus
Read more:
4 Ancient prayers from the earliest Christians