This sequence of meditations helps the soul prepare for an extraordinary event.
As Catholics, many of us are frequently tempted to view reception of the Eucharist as an ordinary event in our lives. It is something we "do" every Sunday and the only preparation we are obliged to observe is an hour's worth of fasting.
Yet, it is much more than a simple action we routinely do each week. St. Maximilian Kolbe once said, "If angels could be jealous of men, they would be so for one reason: Holy Communion."
Kolbe continues, addressing Jesus in a brief prayer, "You come to me and unite yourself intimately to me under the form of nourishment. Your Blood now runs in mine, Your Soul, Incarnate God, compenetrates mine, giving courage and support. What miracles! Who would have ever imagined such!"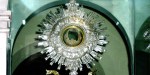 Read more:
4 Incredible Eucharistic miracles that defy scientific explanation


The reception of Holy Communion is an extraordinary event and some in the past took great care to prepare for it. For example, in a Catholic prayer book published in Dublin in 1883, there was detailed a custom of preparing for Holy Communion over a period of three days. This allowed the soul to acknowledge what was going to occur at the next Mass and prepare with love and devotion.
Below is a selection from that prayer book, including brief meditations for each day before receiving the Holy Eucharist.
Day 1
If our faith were lively, we should be so convinced of this truth, that the prospect of a Communion would fill us with transports of joy: we would long for the happy day which was to unite us to Jesus Christ, and be so completely occupied with the expectation of such a blessing, as to become almost insensible to all other enjoyments. To produce those sentiments in your heart, you need but reflect on a few of the advantages of a good Communion. Consider that this most holy Sacrament increases and preserves grace, which is the life of the soul; it enlightens the mind with the brightest light; inflames the heart with the sacred fire of charity; it points out and makes us love our duties; it strengthens us to fulfill them; it moderates the violence of passion, and it penetrates the soul with such sweet and holy peace, as must be felt to be understood. To say all in one word, a worthy Communion unites us so intimately to God, and procures for us such an abundant infusion of his gifts and graces, as caused a father of the Church to say, that "a single Communion would suffice to make a saint." Prayer O my good God! if I really felt how delightful it is to be united to thee, how soon would I despise every other pleasure, and sigh after thee alone, for whom alone I was created. Thou knowest that I desire at least to receive thee worthily; deign then to penetrate my soul with respect and love, that I may so fervently prepare for thy heavenly visit, as never to find death in the fountain of life.
Click on the link below for the next page.