There's a dark side to letting your toddler attempt everything on his own
Yesterday, I was in a hurry to pick the kids up from school so I made the colossal mistake of asking my 2-year-old Isaac to "put his shoes on."
He's very much a 2-year-old, so this request could go down differently on any given day. One day he could say no and throw his shoe at the wall, another day he could collapse into tears, and yet another day he could completely ignore me and continue watching Team Umizoomi. But on this day, the day when I was running late and stressing over 10,000 things, he decided to do exactly what I asked and put his shoes on. Himself.
Even though he's not yet 3, it basically went down exactly like this article from Healthy Way on ways kids can appear to misbehave while not actually doing so.
Every parent has been there. You have someplace you need to be, but your 3-year-old is determined to put his shoes on himself. The minutes pass by and your child stubbornly insists they can do it by himself and erupts into a tantrum anytime you try to assist. When you're in a hurry, a toddler's demands for independence can be infuriating, but this, too, is a developmentally appropriate behavior. In fact, a child's insistence on being granted a level of independence from a young age is a healthy part of getting older. By first grade, your child should be able to perform most of their self-care

.

In order to help our children reach that milestone, we have to be willing to give them the independence they so desperately desire.
Let me tell you how much my first-graders have not been able to perform most of their self-care. Only my oldest was self-sufficient in any significant way by first grade, and it's no coincidence that she was the one I invested the most time in as a toddler (probably because there were no other toddlers or babies around yet). She was putting her own shoes on at 2, no problem — a task her siblings struggle with well into preschool.
So yesterday, even though we were in a hurry, I literally bit my tongue and waited while Isaac put his own shoes on.
It might not have been the most gracious example of waiting ever, but the point is I did wait. Silently. I waited while he tried to put the shoes on upside-down, I waited while he got them stuck on his pinky toe repeatedly, I waited while he carefully put them correctly on both feet and then immediately switched them to the wrong feet. I waited until we were late enough that I was sure I would miss car line, and then I told him we needed to leave when he had the shoes securely on both feet. He looked up, smiled brightly, pointed proudly to his feet and said, "shoe!"
"Yeah, you put your own shoes on, buddy! Good job! Now let's go," I said, grabbing his little hand and leading him out the door.
He went willingly, even happily, which was a more than fair trade-off for the extended minutes of shoe-application. He even let me buckle him into his car seat without protesting, still happily pointing to his shoes and saying, "my shoe!"
As I pulled onto the highway, I thought to myself, "he is so proud of his independence! I should do this more often. I should take the time to let my kids do things themselves, even if it takes twice as long and makes us late."
Three seconds later, a shoe flew over the back of my seat, bounced off the steering wheel, and smacked me in the chin. My independent child had apparently learned not only how to put his shoes on, but also how to take them off and turn them into projectiles, as evidenced by Isaac's joyful shout of "Frow shoe! Frow shoe!"
And that was the moment when I realized that letting toddlers develop independence is highly, highly overrated.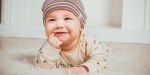 Read more:
"Have children:" The brief message that went viral on social media