The first moments of an interaction are key. Seize the opportunity to make it the best it can be.
They say that first impressions are never forgotten. And it's generally true that changing a negative first impression takes a lot of work. Leaving a bad first impression isn't a permanent scarlet letter, but it's not easy to turn around.
So it's important to learn some basic tips that can help you make a good first impression. It's in your hands: just visualize and work toward the image you want to project by watching out for details like these:
1. Preparation
If it's a pre-arranged date or appointment, prepare for it. Take care of basic details like knowing who you are going to see, what interests you might have in common, and so on. If you've been invited to lunch or dinner, bring something that conveys the message: "I thought of you."
2. Smile
Always present yourself with your best smile because this has the power to move hearts, change moods, and release tension.
3. Leave your tiredness at home
If you feel tired and/or stressed, it would be better for you to have a quick cup of coffee to get your energy back. There is nothing worse than seeing someone arrive with a long face and a tired spirit.
4. Take care of your appearance
Showered, hair styled, and dressed well. You don't need a salon blowout or designer clothes, but you do need to show good taste for the occasion. Your way of presenting yourself shows your respect for others, and for yourself.
5. Just as you are
"Plastic" or fake people are easy to spot. So present yourself in an authentic and honest way, not trying to pass yourself off as something or someone you're not.
6. Discretion
Talk about prudent topics in a simple and eloquent way and you'll be fine. Avoid talking more than you should, but also avoid being too silent. And no bragging or "humble bragging"!
7. Listen!
This is key. Look the person who is talking to you in the eye and take an interest in him or her. You are in front of a new person who surely has interesting ideas or a fascinating back story.
8. Put your cell phone away
Especially during the first 10 minutes. Remember that the most important thing in that moment is the flesh-and-blood person in front of you. We all dedicate time to what we appreciate and value, and giving that person your attention shows your good manners and your respect.
9. Be on time
Punctuality is a gentlemanly virtue — and a virtue for all of us. Never make others wait for you. Being late shows a big lack of respect, so be sure to be on time.
10. Watch your body language
Your body language can show confidence, so keep serene eye contact with the other people. Authentic, honest people look others in the eye when they talk. Stand up straight, walk with purpose. Remember that non-verbal communication accounts for about 70 percent of personal interactions.
11. Ask good questions
Ask intelligent questions that show true interest in the other person and listen to their story. Let them talk most of the time so they will remember that they had a great conversation with you.
Read more:
How to stop yourself from judging the person you just met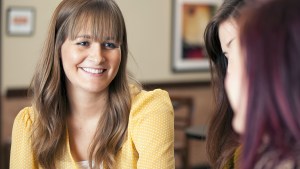 Read more:
Struggling to make new friends? Here's the secret to having those first conversations
This article was translated from Spanish by Patricia Bailey.