There are 7 common ways we try and protect ourselves from insecurity.
Defense mechanisms are unconscious strategies that we use to "escape" from the psychological pain that automatic thoughts cause us. But these mechanisms often don't address the real problem.
For example … Let's say something happens to us that we don't perceive as positive. Our mind automatically associates it with certain thoughts. Instead of reflecting on them and facing them, we "prefer" an escape route.
The DSM-IV-TR (Diagnostic and Statistical Manual of Mental Disorders, 4th Edition), which is the official psychology manual, identifies seven defense mechanisms. The first to identify them was Sigmund Freud.
These mechanisms are always caused by a lack of self-esteem, which gives rise to a strong anxiety, and they are used to escape the uneasy feeling that it causes. Recall that low self-esteem stems from an excessively negative perception of oneself and a consequent difficulty in accepting oneself.
Rationalization
This is the tendency to give apparently rational explanations to behavior caused by emotional reactions. Its purpose is to eliminate guilt. Let's look at some examples of rationalizations …
A father reprimands his son's behavior in a disproportionate and even violent way. Then he tells himself, his son, or whoever else is there: "I'm doing it for his own good" or "Spare the rod, spoil the child" or "If you don't raise them right, they'll be soft." He comes up with these and other justifications for his actions even though deep down, he knows they're not right. He's motivated by a strong sense of guilt that he wants to eliminate by rationally explaining his behavior.
This defense mechanism is probably the most common one.
Projection
Projection consists of attributing to others the limits or defects that we, at the unconscious level, see in ourselves.
The person who resorts to such a mechanism is very grouchy, demanding, and critical. He complains about anything and everything and ends up becoming unbearable for those around him. His family and friends end up distancing themselves from him because they can't stand his constant criticism.
People who resort to projection usually say things like: "Everyone is so clumsy!" or "How do you do things so badly?" or "People are so unreliable. You can't trust anyone!" or "It's because nobody uses their brain. They don't think!" It is clear that they have a very negative view of everyone around them, probably as a projection of the negative idea that they unconsciously have of themselves.
Victimhood
This can be considered a type of projection mechanism by which the person believes that all his problems come from the bad behavior or the wrong attitude of the whole world towards him.
Those who take on victim behavior are usually flighty and self-centered, and have a very negative self-concept. In other words, in their unconscious, they don't accept themselves and they consider themselves to be of little value. However, this feeling of rejection is projected onto others and so they give a negative interpretation to actions or words that do not originally have any bad intent. In their unconscious, these people think they deserve only the rejection of others, so they interpret everything that others do to them as a rejection. They can even come to negatively interpret the positive attitudes or sincere interest that others have towards them.
Identification
This consists in imitating the behaviors, attitudes, ways of dressing, ideas, and so on of some successful or otherwise attractive person. By so doing, they hope to overcome their fears or insecurities.
This mechanism is very common in adolescents. As they face the challenge of integrating into adult society, they feel insecure and look for established models to identify with. They can end up imitating their chosen idol's way of dressing, talking, walking, tastes, ideas, etc. This mechanism, so frequent at this age, leads advertisers to use celebrities – actors, singers, athletes, etc. – to promote certain products. Advertisers know how to use identification.
Idealization
This is the tendency to consider a person who is important to us as perfect, attributing all kinds of virtues to them and denying their possible faults.
This mechanism is also common in adolescents. As we have seen, they tend to see their idols as champions of virtue and attribute all the good to them while refusing to believe anything negative about them. In this way they feel safer, as they seem to have a point of reference that will never fail.
We can even find this mechanism in adults, especially in groups that support a political party or some of its representatives. In some cases, they can deny the evidence of the mistakes that the person or party committed and can attribute every kind of virtue to them. Attitudes like these make people easy to manipulate. Insecurity in the face of life's adverse circumstances generates anxiety, which leads them to idealize some people and therefore to see them with little objectivity. The obvious consequence is that they end up blindly supporting any initiative that their idols propose.
Displacement
When it's impossible or too risky to unleash our emotions on those who provoked them, we tend to displace this emotion on someone (or something) less risky, even if they are unrelated to the original emotion.
The problem arises when what we displace is anger. Displaced anger can happen in situations where we cannot safely direct our anger against those who provoked it. For example, if my boss treats me unfairly and I can't defend myself for fear of losing my job, I will probably unload that wrath on my wife or son when I get home, no matter how small the trigger. Strangely, the person is often unaware of this displacement and tends to justify himself with rationalizations.
Denial
This is the tendency to minimize or deny potentially stressful situations or events.
This defense mechanism has very serious consequences, as it prevents us from tackling problems and finding an effective solution; it's like hiding your head under the sand in order not to see the danger coming. It implies that the person sees himself as unable to solve certain problems. He denies the problems so as not to be hurt by having to face them.


Read more:
6 Common "distorted ideas of reality" that feed your insecurity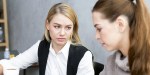 Read more:
Why women compare themselves to each other




Read more:
The Coveted Badge of "Regret Free" Abortion


This article was originally published in the Italian edition of Aleteia and has been translated and/or adapted here for English speaking readers.