As Italian government grants the child citizenship, and pope sends another tweet, disconnection from respirators delayed again, at least for today.
The director of the Bambino Gesù pediatric hospital in Rome, Mariella Enoc, went to Liverpool, UK, to be with the parents of little Alfie Evans, reported Italian paper La Nuova Bussola Quotidiana today, as the boy's parents managed to obtain another last-minute delay before what would have been the fatal disconnection of his respirator.
After another refusal of British doctors and courts to let Alfie Evans go to the Vatican pediatric hospital, Mariella Enoc and an anesthesiologist from Bambino Gesù left for Liverpool early this morning. When they arrived at the hospital, they joined Alfie's parents and the priest who is accompanying them.
Meanwhile, today from Rome, the pope sent another tweet supporting Alfie and the plight of his parents:
Moved by the prayers and immense solidarity shown little Alfie Evans, I renew my appeal that the suffering of his parents may be heard and that their desire to seek new forms of treatment may be granted.

— Pope Francis (@Pontifex) April 23, 2018
Alfie Evans, 23 months old, is suffering from brain damage. Against his parents' will, the doctors have decided to remove his respiratory assistance. This decision, which would be fatal for the child, has been repeatedly confirmed by British courts.
While his respirator was to be disconnected at 1:30PM (local time, UTC + 1) today, the parents managed at the last minute to obtain a new delay. Since the time of the disconnection has been modified, a new decision must be issued to take this step, explains Avvenire, the daily newspaper of the Italian bishops.
A further development took place today when the Italian Government granted Italian citizenship to Alfie in order to facilitate his eventual transfer to a hospital in Italy. However, the court decisions have not yet been nullified, as Alfie also remains British. After an intervention of the Italian embassy, the procedures seem nevertheless suspended, at least for today.
Express "Pope Francis' closeness"
This impromptu trip by Mariella Enoc, explains Vatican News in Italian, aims to make one last effort to work with the authorities of the English hospital to find an alternative to the disconnection of the artificial respirator.
For its part, Avvenire reports that this trip was undertaken at the family's invitation. According to the newspaper, Mariella Enoc said she was at the parents' side to bring them "Pope Francis' closeness."
On April 19, Mariella Enoc had reported that Pope Francis had asked her to do "the possible and the impossible" for little Alfie. The Sovereign Pontiff himself got involved, publicly requesting several times that the parents' desire to keep their child alive be respected.
"Our duty is to do everything to protect life," he insisted during his audience on April 18, regarding this case and that of French patient Vincent Lambert. A few minutes earlier, the Bishop of Rome had received Alfie's father in a private audience.
Vatican News reported of the pope's meeting with Alfie's father that it reminded him of the love of God:
The Holy Father listened with interest to what Alfie's father was saying and at one point he said: "I admire you for the courage you have, you are so young but you have the courage to defend your son's life". And at a certain point he even said that the courage of this father is similar to the love that God has for man in that He does not resign Himself to losing us. And I think that was the most moving moment.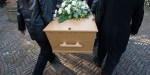 Read more:
Does the Church expect us to suffer instead of "dying with dignity"?


For some background on the case, as well as a leading UK bioethics center's take on it, see here: Parents in the U.K fight the courts for their toddlers' lives